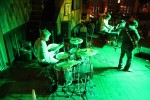 BIG WIG MECHANIC
Big Wig Mechanic got their start on the southside of Chicago in 2007. Quickly after getting together, the upbeat trio gained momentum playing local bars and venues all all over the Chicago area. They built a grassroots following by rocking out packed bars and venues, and battling out to the top of multiple "Battle of the Bands" contests. (Their most recent feat was out of 30 bands) 
Their style is a pleasant mix of pop/rock thats is infused with a funky reggae vibe. In a typical show you can expect the staple reggae covers (Marley, Tosh, etc) but also a fresh take on unexpected past covers (think Notorious B.I.G.'s "Juicy" into Blondie's "Heart of Glass"). 

But their cover's is only one aspect of the Big Wig Mechanic sound. What makes them stand out is their original music. Their original tracks are of such high quality that it's hard to tell the difference as to what's an original and what's a cover of a timeless classic when they are playing a live show.
The band members individual talent really shines through in a cohesive concert experience. Don't be surprised to see a spontaneous instrument swap between members or an all out improv percussion jam with all involved. Their wide array of musical knowledge and styles as well their unique approach on their own material blends together seamlessly, and creates an experience that fits in any setting. Whether its a packed pub of drinkers waiting to hear their favorite hits to shout along to or a late night club looking for a funky dance party, Big Wig has it all. They even do the occasional acoustic orientated sets for fundraisers, charities and family events. And every crowd exposed to it sees that magic, and can't help but move. Big Wig Mechanic is young and still relatively new to the scene, but expect to see a lot more of these guys in the future!