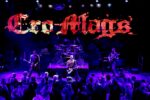 CRO-MAGS
The history of the Cro-Mags is integral to the history of Hardcore, its evolution from punk and the development of alternative music genres such as hardcore, cross-over, thrash metal, post punk and grunge to name a few. Numerous iconic bands from Metallica to Green Day, and individuals such as Dave Grohl have credited Cro-Mags with having had a primal influence on their development.
Born out of the violence and depravity of the Lower East Side of New York in the late 70s and early 80s, the Cro-Mags was the brainchild of a very young Harley Flanagan (at the time 14 years old) when still playing with the Stimulators. By 1982/83 he wrote and recorded the very first Cro-Mags demos consisting of 4 songs that would become the blueprint for the seminal 1986 "Age of Quarrel." He wrote all of the music, played each instrument and sang. Before long he connected with Parris Mayhew and the two started writing music and auditioning band members.
After several line-ups, 5 studio albums (beyond the original demos) and 30 + years of tours around the world, Cro-Mags remains one of the most iconic hardcore bands with arguably the greatest reach beyond the genre.
Cro-Mags
"In the Beginning"
Why now? In Flanagan's words: "Lemmy came to me in a dream and said, 'Take it back mate, it's yours, you started it.' The fact is, I never legally lost the name Cro-Mags, others were using it without my permission, while I was raising my kids. An agreement was struck with the previous members and I regained full control over the name worldwide.Now with an amazing line up and 2 record deals I am moving forward. I have a great team of people behind me; I have never felt stronger, better or more creative."
In 2019 Cro-Mags signed with Victory Records and Arising Empire and released the "From the Grave" single, consisting of the tracks: "Don't Give In," "Drag You Under," and "No One's Victim."
Flanagan: "These lyrics are meant to inspire and kick you in the ass when you need it. Some might not take them that way, but that's my intention. Sometimes you need someone to tell you to man-the-fuck-up, or woman-up, cause life ain't easy and you will get crushed if you don't. I wrote them more for myself than anyone else, cause sometimes I need to hear these things, as I think we all do."
"Some of them were inspired by loss, the loss of friends, by suicide, cancer, struggling with depression, mortality and ultimately the beauty of life. You have to be able to recognize it, even when you're suffering and struggling. Although we all fight our own personal battles, and they vary, none of us are alone in the fact that we have to fight our battles, and many of them we must fight alone. In that way, we all have something in common, besides needing basic things like food water and shelter. We also must learn how to cope with struggle and mortality. Some rise to the top while others crash and burn."
"I feel like I crashed and burned enough times that I somehow managed to rise back to the top. I feel stronger, happier mentally, spiritually and physically than I have in years; and it did not come without a struggle or cost. But that is life; you have to fight for what you want, and you also have to know how temporary it all is."
The Album: "In the Beginning": The full length has 13 tracks including the 3 from the first single. The songs draw on the past and break new ground musically; the lyrics as always, are based on personal experiences, mixed with advice and reality-based themes and topics ranging from personal struggles, striving to succeed against the odds and issues that we are all challenged with in one way, shape or form.
The singles and album feature, along with Harley Flanagan, Gabby Abularach (Gil Evans Orchestra, amongst many other projects) who played on Cro-Mags' "Alpha Omega" (1992) and "Near Death Experience" (1993); Rocky George (formerly of Suicidal Tendencies and Fishbone) who played on Cro-Mags' "Revenge" (2000); and " Gary "GMan" Sullivan (who has played with everyone from the B-52's, Berny Worrel of Parliament Funkadelic, TM Stevens etc.), who joined Cro-Mags in the 90s.
"In the Beginning" will be released June 19th worldwide on LP, CD and all digital platforms. The band was set to support the album through release shows and festivals in both Europe and North America, but due to the Corona virus, all shows were postponed or cancelled. Harley was one of the first to put together a live stream event which aired online March 19th and has been viewed over 100,000 times and received coverage from CNN and all major press outlets. A free download of the track, "The Final Test," was then given to fans shortly thereafter.
DISCOGRAPHY:
The Age of Quarrel (1986)
Best Wishes (1989)
Alpha Omega (1992)
Near Death Experience (1993)
Revenge (2000)
Don't Give In (EP) (2019)
From the Grave (EP) (2019)
In The Beginning (2020)