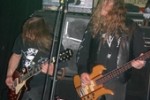 EARTHEN GRAVE
(with Rachel Barton Pine)
Formed in 2008, Earthen Grave is a six-piece Chicago metal band that marries the sounds of metal past and future with a sweaty, pummeling live show. Bassist Ron Holzner served a 15-year sentence with Chicago doom legends Trouble and Rachel Barton Pine brings her frightening classical chops to a relatively new instrument, the Viper. Finding groups like Black Sabbath, Judas Priest, Saint Vitus, Trouble, Pentagram, Candlemass and Slayer to be common influences, the band wrote and played shows around Chicago for the first half of 2009, culminating in the release of the "Dismal Times" EP in June. Featuring three original songs that meld classic, crunchy doom and NWOBHM vibes with a solid dose of thrashy bludgeoning alongside covers of two choice doom classics by Pentagram and Witchfinder General, the EP was hailed by critics as "astounding, " and "pure, head-banging bliss" (MaximumMetal.com).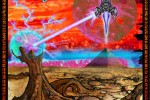 DEEPSPACEPILOTS
Deepspacepilots: heavy rock with an almost sub-underground/early
stoner Sub Pop vibe, this Chicago-based band blends a unique style of
psychedelic, stoner rock with elements of doom, ambient, and early 90s
British-shoegaze. Unlike a lot of bands in this same subgenre of music
who yell and scream over the riffs, deepspacepilots employ a melodic,
and, at times hypnotic-style of lead vocals that aren't paired up too
often with music this heavy. Add that to the band's wall-of-sound
rhythm section and you get a mix of heavy guitar, bass, and drums with
vocals that at times seem to float on top of the music. The band has
released two self-titled albums and is working on new material in the
studio for an upcoming release.
"Southside Veterans of Intergalactic Ear-Bleeding Ambient/Psychedelic
Rock Excursions…" -Renato Brujo
"If you consider yourselves fans of either stoner, doom or psych and
you like a very small touch of ambient in your listenings then you
HAVE TO check this out." -Stoned Sun Vibrations.
"…all killer/no filler heavy with an instantaneous-catchiness
trip…" –deathstar330.blogspot.com
QUESTIONS OF MADNESS
After leaving The Chasm in 2003, bassist Alfonso "Poncho" Polo (left) felt that after almost 20 years of playing in different bands, the whole "music thing" began to feel more like a chore or a job. Rather than quitting the music business for good, Poncho decided to take a break from music completely. But in the spring of 2009, Poncho's love for his music resurfaced but rather than just joining a band, he decided to work on his own project. Harnessing musical inspiration from bands like Root, Candlemass, Mercyful Fate, Solitude Aeternus, Trouble, Black Sabbath, My Dying Bride, Cathedral and Bolt Thrower, Poncho incorporated lyrics based on reality, fantasy and personal experiences into his songs. After forming the basis of the sound he was after, Poncho named the project Question Of Madness.