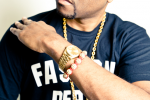 GLC
GLC (Gangsta L. Crisis) captured the attention of listeners looking for honesty and integrity in Hip Hop music with one heart-felt guest appearance. Just as much as it was his flow, it was the power in the words he rapped on "Spaceship" that gained GLC an audience and fan base. Now a few years removed from his entrance to Hip Hop's mainstream, GLC is the epitome of the ism, honor, mackin' & integrity.
One must wonder how a rapper without any full-length album, and little radio play can manage to pick up two Grammies as well as the respect and admiration of Hip Hoppers across the board? GLC's formula for doing so is a combination of Life, Love, and Loyalty. GLC is able to connect to listeners both in the streets, as well as professional walks of life by possessing an uncanny display of ism. He says, "When I go into the booth, I don't have a rap voice, or a rap character that I become. I'm the same G at all times. I'm that man with an interesting life off 87th street who loves woman & spits the rawest of life changing game. I speak to the Cathedral! Come & join the congregation, hustlers, players entrepreneurs, people trying to better themselves are all welcomed."
GLC has continually bettered himself and his music through hard work and dedication. He found poetry and Hip Hop at an early age, and used both to cope with the passing of his parents. While dealing with the pain, a growing talent presented itself. For years GLC seemed to be caught between two worlds. He worked in clothing stores, while continually hustling in the streets. Throughout this time he also harbored dreams of being a Hip Hop artist, and infused his songs with lyrics that spoke to his people grinding in the streets of Chicago, as well as those working a 9-5. Eventually he decided that music was the best way to accomplish his dreams and he would not let any roadblocks stop his journey towards success.
"As long as you're talking about the negativity, you're only attracting more negativity into your life. Stay positive. I was dead broke. I was living in my sister's basement. All I had was a VS-880 (8-track recorder) but I did 2-3 songs a day," GLC recalls.
"The way the music was back then, the skill level I've acquired over the years, it wasn't that back then. But it took that to get to where I am now. It took that hard work. It took that perseverance, it took the dedication, discipline, and determination. I wasn't sitting around complaining about what I didn't have. I focused on getting what I didn't have. So, as long as you focus on bettering yourself, that's what's going to happen. If you sit around letting your problems get the best of you, you're not going to make it in nothing. That's negative. Negativity is not the way. You got to eliminate negative people out of your life."
That positive attitude is what has led him to become one of the most respected and sought after artists in a city known for its cold temperatures and colder shoulders. A full believer in Karma, GLC chooses to collaborate with artists even if the short-term benefit is small. He reasons, "God has really blessed me to make it this far, and to almost be done with my album. As long as God has blessed me, it's only right for me to spread those blessings. So that's why I get in the studio with somebody and they can put 'featuring GLC' on the cover of their thing. This might help push what they're doing, and I don't see nothing in return. My blessing's going to come."
It is only natural for GLC to have that mindset. After all, his blessings started when childhood friend, Hip Hop icon Kanye West, offered GLC a guest appearance on his debut album, The College Dropout. GLC took advantage and delivered a verse that will resonate with listeners for years to come. He followed it up with another stellar performance on "Drive Slow," from Kanye's sophomore LP, Late Registration. Since then, GLC has released mixtapes with DJ A-Trak (Drive Slow), DJ Geno (I Ain't Even On Yet), as well as Sean Mac (Honor Me). All the projects show that he is more than a one-verse wonder. In fact, he welcomes the doubters as they only propel him. "I thank God for the haters. I look at it like this, if everybody doens't like you, then you're doing something wrong. If everybody says they love you, you got to question that because someone might be being phony."
Beyond the haters, GLC is fueled by his own motivations for greatness, and his honor as a man. He says, "I could have been like, 'yeah. I made it on a Grammy award-winning album,' and quit. Or, 'now I'm on two Grammy award-winning albums,' and quit. I performed all over the world, Staples Center, United Center, Madison Square Garden, I did all that. Abbey Road where the Beatles recorded, I did that. I did so much that I can tell these stories to my grand kids and be like, 'this was my life and I'm cool.' But there's so much more. I want to leave a legacy. I don't just want to leave memories when I'm gone. I want to live forever. You live through your legacy. I want people to say, 'you see that building right there? That's the GLC Foundation.' When people see my grandkids they say, 'that's GLC's grandkids.' That means something. That means that I'm still alive because I'm still in your head when I'm dead and gone."
GLC presents a refreshing alternative in an industry that is quick to stab someone in the back, as well as forget a name. After introducing himself to the world via Kanye West, GLC is ready to take flight on his own accord. And he's got plenty of room to take his audience with him.
"My album is going to take you to a place, It's not going to be a listening experience-it's going to take you to my world. So, whenever you feel like you're in a certain mood and you want to escape all your problems, although you're still going to have to face that reality at the end of the day, whenever you need a simple escape, that's when you put my CD in. My album will make you laugh, it will make you cry and it make you feel unstoppable! You will be inspired to get it, being what ever you desire! "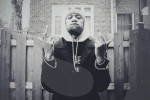 SULAIMAN
CHICAGO'S ARISTOCRATIC RAP LEADER. TREATED CREW REPRESENTATIVE. SULAIMAN SHABAZZ WAS BORN INTO THE FOLD OF CHICAGO'S SOUTH SIDE, TAUGHT BY THE DUALITY OF ITS PEOPLE, AND BLESSED WITH THE TALENT TO REPRESENT IT IN ALL FACETS.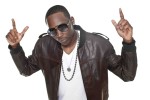 YP
YP aka Backwood Jones is an Eastside Chicago rap artist that has made his city proud. Inking a deal with Universal/Republic Records in 2011, YP started the wave of signings that featured Chief Keef, King Louie, etc.


YP started rapping in 2007 and has evolved into a beast. He has opened for legends of the game, with Q-Tip & Nas co-signing his talent. Already releasing a half dozen critically acclaimed mixtapes between 2011-2013, be on the lookout for the next offering, Backwood Jones, in Summer 2014.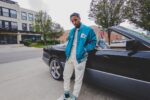 ROCKIE FRESH
If you are looking for a versatile rapping style infused with intricate bars and self-inspiration, Rockie Fresh is the artist for you. The independent Hip-Hop vet is a product of the cultural hub Chicago and brings a style unlike any other from the city.
Rockie Fresh aims to reach new levels of success, inspiring fans and living up to promise to his friends and family along the way. In each release, Rockie seeks to show a different side of himself as a person and an artist, providing a complete look into his story with each bar and beat. The latest glimpse into Rockie's world is the Slide Thru Part 2, capitalizing on one of the best 2020s of any artist and pairing him alongside some of the elite artists in his city.
His family currently inspires Rockie Fresh, presently engaged in a journey of fatherhood alongside music. He is presently using his music to give his take on everything that is going on in his world.
"My recent life experiences taught me that prayer is important when trying to navigate properly through life," Rockie said. "Also, hard work can beat bad situations; when times get tough, work harder."
With a new project on the horizon, Rockie Fresh is focused on creating better art with each drop. With two albums in the works for 2022, Rockie exudes excitement for his new music.