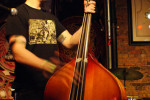 NOTHING TO GAIN
From the fires of hell they rise with powerful guitar riffs, pounding bass lines, and intense drummming to make a permanent scar on the Chicago music scene. With influences such as The Koffin Kats, Mad Sin, Eddie Cochran, and Johnny Cash they're not here to tell you how to dress, who to be, or what to believe in. They sing of your nightmares and quiet possibly some of your dreams. Lifes to short to worry about money, politics, and religion so fuck all of that and lets have a good time!!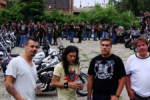 EAST SIDE WILDCATS
Little is known about these hooligans other than they rock and you better stay off of their turf. Rumor has it they met in a juvenile detention center on the east side of Chicago in the late 70's. Their live performances are legendary often ending in the band being taken off the stage in handcuffs by the authorities. The Illinois supreme court has ordered that the fire marshall must attend all their shows in case he has to shut them down for overcrowding and rioting. The only thing they respect is Rock n Roll.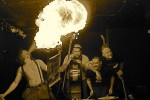 MIKEY CLASSIC
(of The Goddam Gallows)
Singer/Songwriter for The Goddamn Gallows.