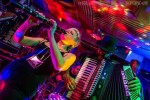 FORD THEATRE REUNION
Citing influences as diverse as punk, balkan, jazz, metal, nightmares, and wet dreams, Lexington, Kentucky's The Ford Theatre Reunion creates a sound that defies easy definition. In one moment ethereal vocals drift over flighty clarinet and melancholy accordion, and in the next moment it's a full-bore, guitar-snarling rock n' roll assault. It is the perfect soundtrack for a puppet show at a funeral or board game night with some werewolves.
Describing them is complicated. So let's just call them well-hyphenated.
Despite their disparities, The Ford Theatre Reunion has one particular aspect that never changes: once they catch your eyes and ears, you aren't going anywhere for the rest of the night. Since 2008, they have been bringing their unique sound and high-energy show to clubs, basements, bars, and bungalows across the US, and they are guaranteed to get even the most stubborn audience moving.