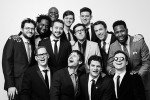 SNARKY PUPPY
The once Texan, now New York-based quasi-collective Snarky Puppy has gone from the best-kept secret to one of the most respected names in instrumental music. Although still "underground" in many respects, the band earned its first Grammy Award in early 2014 (for Best R&B Performance) and has earned high praise from critical stalwarts like the BBC, Village Voice, Guardian, and Boston Herald, as well as the world's most respected musicians, from Pat Metheny to Prince. They topped the ITUNES Jazz Charts with their Grammy-winning 2013 release, "Family Dinner – Volume One."
The band has always used live performance as its chief form of evangelism, and maintains a more intense tour schedule than almost any band in the idiom. Over the course of 2013, Snarky Puppy gave almost 200 performances and workshops on four continents, including North Sea Jazz, Monterey Jazz Festival, Jazz á Vienne, Blue Note Tokyo, and the Melbourne International Jazz Festival.

Snarky Puppy seamlessly fuses a deep knowledge and respect for musical tradition with sonic and conceptual innovation in a way that is able to reach the most critical- or most carefree- audience. The convergence of musicians from white and black America (who also perform regularly with artists like Erykah Badu, Snoop Dogg, Kirk Franklin, Justin Timberlake, Roy Hargrove, and Marcus Miller among others), which occurred while the band was in its adolescence at the University of North Texas, has naturally established a system of balance that instantly draws listeners to the music- raw funk and sensitive dynamics, relentless pocket and lyrical melodicism, lush harmony and soulful simplicity, and most importantly, a delicate mixture of composition and improvisation.

The group is led by bassist/guitarist/composer/arranger Michael League, whose creative grass-roots approach to a tougher-than-ever industry has created a new model for independent artists. Snarky Puppy is a three-headed creature: first, and most obviously- an original music ensemble. Second- a production team and session band for individual artists. Third, and probably most importantly- Snarky Puppy is a group of musicians enthusiastically committed to music education and community outreach. Working with groups like ROAM (Roots Of American Music) in inner city Cleveland and the Music Lab at Jefferson Center in Roanoke, as well as giving clinics at hundreds of colleges, high schools, and middle schools worldwide, the band has made a strong commitment to spreading their love of music and general positivity to a young generation looking for something real to be inspired by.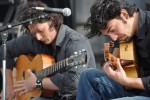 THE ANDREAS KAPSALIS & GORAN IVANOVIC GUITAR DUO
A guitar duo that not only celebrate the tradition of guitar performance of the old and the current rapport but also as composers they are a part of a movement in the states who's aim is to build the new repertoire for the next generation of guitar players.
Steel string ten finger tapping guitar prodigy Andreas Kapsalis, and nylon string classical guitarist Goran Ivanovic have fused their musical roots with modern, classical, world, jazz and beyond in this experimental duo. As they continue to create "buzz" throughout global music circles, these masterful musicians are also creating genres & musical styles that have yet to be named.