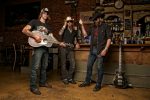 SUPERSUCKERS
You've heard our name, you've seen our records, our t-shirts and our stickers. We're probably the favorite band of someone you know and yet maybe we're still a mystery to you. Well my friend, that's okay, you're at the right place to get to know the greatest rock-n-roll band in the world, The Supersuckers.
And the next time you see the 'Supersuckers' name, whether it's in the record store, online somewhere, or on the marquee at your local rock club, know that there's some quality, honest, ass-kicking, hard working individuals behind it all trying to make your life a little better through the "Evil Powers Of Rock-n-Roll" (and the occasional detour into the country music, of course) and we'd love nothing better than to have you there with us as! Just remember to wear clean underwear, because we're gonna rock your pants right off of you.
– Eddie Spaghetti, Rock Guy
The Supersuckers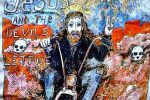 WILD JESUS AND THE DEVIL'S LETTUCE
Wild Jesus and The Devil's Lettuce Family Party Band is a community of musicians with the uncanny ability to surprise you every time they take the stage. As one might expect from such a strangely named group, Wild Jesus' sound ranges from noir waltzes all the way to effects laden, impressionistic, psychedelic grooves.
COLD COCK JONES ALL STAR BAND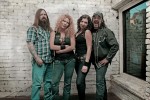 NASHVILLE PUSSY
There are few bands that embody the phrase "sex, drugs & rock 'n' roll" as well as the Grammy Nominated American hard rock act Nashville Pussy. Blaine Cartwright is the Bon Scott of his generation with his 'nursery rhymes for prisoners' style of lyrics. Wife Ruyter Suys is the Angus Young of women. Together they create 100 proof No holds barred, no apology rock n roll. This shit ain't for pussies