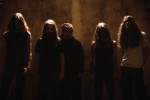 BLACK BREATH
Black Breath is a band from the Pacific Northwest who have quickly shredded their way to popularity. With members of Shook Ones, Go It Alone, Blue Monday, Get the Most, and On, they began in 2007 as crossover band with a joking spirit such as songs like "Party Idea" in their 2007 Demo. In 2008, they released a 4-song 12" EP, Razor To Oblivion, which proved their step in a more serious direction, writing riffs that are reminiscent of first-wave thrash, black, and death metal bands such as Celtic Frost and Hellhammer, but maintain a traditional hardcore punk undertone.
Although Black Breath is a fairly young band they are quickly becoming everyone's new favorite band. They have absolutely stormed onto the hardcore and metal scene with their unique and uncompromising sound. After gathering a loyal cult following the band took their assault around the USA supporting Trap Them and Victims. Late last year Southern Lord released the very first recordings from Black Breath in the form of the Razor to Oblivion EP. Raw, intense and in your face this EP has created a immense buzz and effectively set up the highly anticipated next move!
For this, their debut full-length the band went into Kurt Ballou's (Converge, Trap Them, Disfear) God City studios in Salem, Massachussets. The end result of those monumental sessions is a recording much darker, heavier and more brutal than anything they have done before. The direction of the album contains many of the punk and hardcore influences that were exhibited on the Razor To Oblivion EP. However, after listening to just five seconds of the albums opening track, "Black Sin (Spit On The Cross)" it's painfully obvious the band has let their Swedish death metal obsession take control! One of the bands strengths is its ability to truly craft a memorable song with hooks that dig into your skull and never let up. This is heavily apparent on the thrashing burner "Children of The Horn".
Not since the mid-eighties when bands like Motörhead, Metallica and Discharge were giving metal heads bangovers has brutality been so infectious. The decidedly more Death Metal direction of Heavy Breathing is a extremely bold move that will definitely set them apart from the rest.