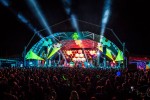 WOOKIEFOOT
Wookiefoot is a band, a non-profit charity organization (BeTheChangeCharities.org), a circus, a philosophy, and a community of globe trekking bliss junkies and believers that are the fuel to keep this Tribadelic Spaceship going! Their charity organization (with the support of their community) has donated over $600,000 to international relief efforts, as well as other environmental and social justice causes. Wookiefoot invites their community home every September… when they host and headline their own Global Conscious Gathering called Shangri~La Festival at Harmony Park in southern Minnesota. 
Wookiefoot's live sets are an entertaining barrage of sonic and visual stimulation. The fast paced circus like set has been called "Short Attention Span Musical Theater". These live performances are a one of a kind experience that mixes Reggae, World Beat, Hip Hop, Irish, Funk, Folk, Rock & more with a large band featuring everything from a vintage Hammond Organ to Bag Pipes! Combine that with a mind-blowing stage show that may include anything (such as a wild light show, projection, costumes, fire, dancers, aerialists, magic, clowns, puppets, etc) 
WELCOME… AND THANK YOU FOR RIDING WOOKIEFOOT!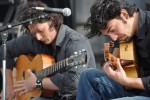 THE ANDREAS KAPSALIS & GORAN IVANOVIC GUITAR DUO
A guitar duo that not only celebrate the tradition of guitar performance of the old and the current rapport but also as composers they are a part of a movement in the states who's aim is to build the new repertoire for the next generation of guitar players.
Steel string ten finger tapping guitar prodigy Andreas Kapsalis, and nylon string classical guitarist Goran Ivanovic have fused their musical roots with modern, classical, world, jazz and beyond in this experimental duo. As they continue to create "buzz" throughout global music circles, these masterful musicians are also creating genres & musical styles that have yet to be named.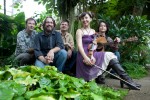 THE RAGBIRDS
Led by dynamic, energetic front woman and multi-instrumentalist Erin Zindle, The Ragbirds utilize an arsenal of instruments from around the world. The Ragbirds are a fusion of folk rock and pop hooks over danceable world rhythms stirred with a Celtic fiddler's bow.
Surrounding Zindle's earthy-sweet voice is the whirlwind of guitarist T.J. Zindle and dynamic bassist Dan Jones, spinning over the world-beat grooves of drummer Jon Brown and percussionist Randall Moore. Zindle skillfully switches between violin, mandolin, banjo, accordion, and percussion, all while dancing around the stage, drawing the awe of audiences across the country.
The Ragbirds albums have received local and national praise, hailed "Highly impressive!" by USA Today and touted as "Astounding international eclecticism" by Reveal Arts. The Ragbirds were formed in 2005 with the release of "Yes Nearby." 2007's world-travel themed "Wanderlove" was Homegrown Music Network's #1 selling album in the fall of 2008. The 2009 international release of "Finally Almost Ready" saw the band invade Japan with the single "Book of Matches" reaching #1 on the charts in Osaka. In 2010 The Ragbirds reached yet another milestone in their young careers when they independently marketed and sold their 10,000th album.
The Ragbirds have performed in over 45 states to a tune of 150+ shows a year. Crisscrossing the nation in their converted diesel bus that runs on recycled waste vegetable oil, these festival favorites have performed at Rothbury, 10,000 Lakes, Summer Camp, Ann Arbor Folk Festival, Hookahville, and more, and have shared the stage with Rusted Root, Railroad Earth, Toubab Krewe, Hot Buttered Rum, The Duhks, and many others.