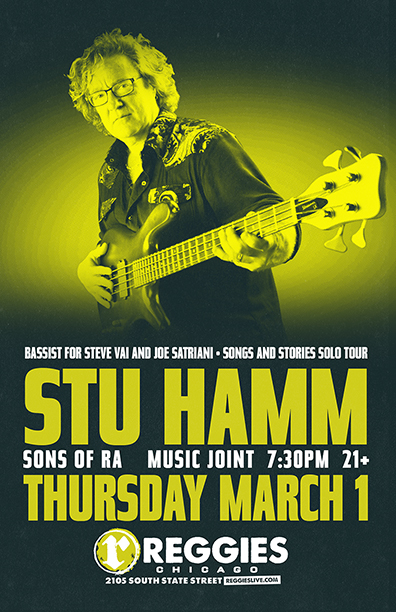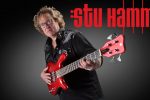 STU HAMM
Through his innovative work as a solo artist and his contributions as a sideman to Joe Satriani and Steve Vai, 
STU
HAMM
 has firmly established himself as one of the most influential electric bassists of the past half-century. Extending the non-traditional function of the electric bass previously revolutionized by Jaco Pastorius and Stanley Clarke in the 1970s, 
Hamm
 helped to reshape the contemporary concept of the bass guitar as an unaccompanied instrument with the utilization of polyphonic, two-handed tapping, slapping and popping techniques, chords, and harmonics. Although 
Hamm
 certainly wasn't the first bass player to debut during the 1980s and employ an unorthodox approach to playing the electric bass, he was undoubtedly at the forefront of his generation who effectively fused the application of these unconventional techniques.
STU
HAMM
 is a world class, utterly entertaining story-teller, legendary bass guitar icon, known also for playing and recording with some of the greatest guitarists of the recent decades: Steve Vai, Joe Satriani, Greg Howe, Alex Skolnick, Richie Kotzen, Mike Keneally, Allan Holdsworth, Frank Gambale, Michael Schenker, Richie Kotzen. and many others. 
Stu
 has been a monumental influence in jazz/rock style for many bass players worldwide.
STU

 

HAMM

 i

s endorsed by Warwick basses, MarkBass amps and GHS strings.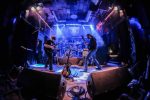 SONS OF RA
Sons of Ra formed in Chicago in 2000 as an experimental instrumental ensemble. The identity and lineup of the band morphed considerably during the early 2000s playing around the midwest,  experimenting with mixing electronic music with modal and hard-bop jazz influences. The current trio line-up embraces their roots in jazz fusion, heavier progressive music with a bend for experimentation in their newest compositions, drawing from Return to Forever,  Mahavishnu Orchestra, King Crimson, Frank Zappa, avant-garde composition inspired by Glenn Branca, and post metal/math acts such as Russian Circles, Cynic, and Blotted Science.
Sons of Ra is currently performing around Chicago and the midwest. Their latest EP release, "Anthropology" came out in December 2016.