The concert featuring Tempest is CANCELED.
Refunds will be issued at original point of purchase.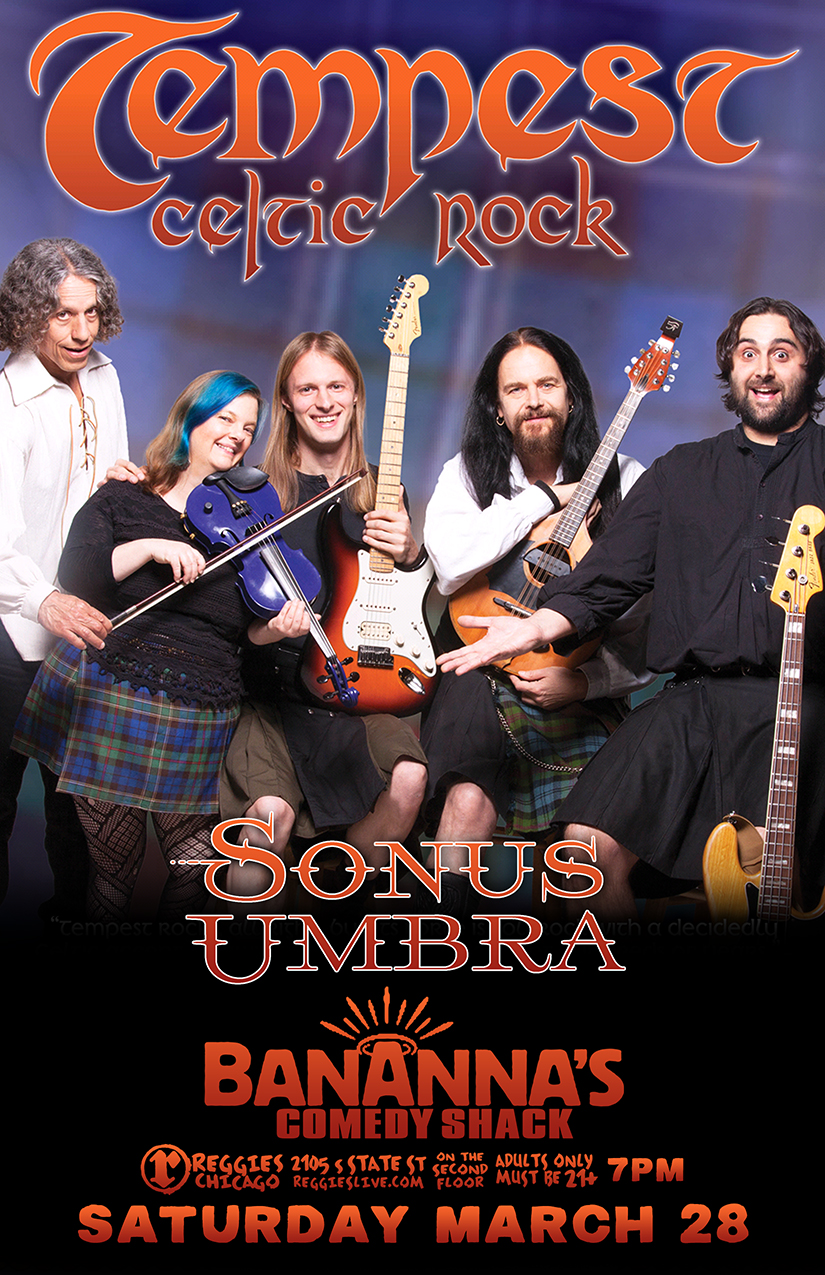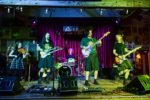 TEMPEST
Since forming in 1988, Tempest has delivered a globally-renowned hybrid of high-energy Folk Rock fusing Irish reels, Scottish ballads, Norwegian influences and other world music elements. The last 26 years have seen the San Francisco Bay Area based act release fifteen critically acclaimed CDs and play more than 2,000 gigs. It's also enjoyed an evolving line-up that's enabled musicianship and creativity to rise with each new member.
Hailing from Oslo, Norway, founding member and lead singer/electric mandolinist, Lief Sorbye, is recognized as a driving force in the modern folk-rock movement. He started Tempest after years of touring and recording on the folk circuit. San Francisco fiddler Kathy Buys brings her international award winning playing to the Tempest stage. Her experience performing world-fusion music with high energy dance bands combined with many years of playing Irish traditional music in America and Ireland makes her a perfect fit for Tempest. The newest member is Josh Fossgreen, an exceptional young talent whose innovative bass textures add a rich dimension to the Tempest soundscape. Born in Colorado and brought up in small town Missouri, Gregory Jones is the latest in a long line of Tempest guitar greats! His fiery licks and hard-rocking approach to the instrument, combined with his experience and understanding of Celtic music is a fast favorite with fans, new and old alike! Cuban-born drummer Adolfo Lazo, an original Tempest member, colors the band's sound with inventive rhythms, and rock-steady drumming.
Signed to Sony-distributed Magna Carta Records, Tempest's releases are acclaimed worldwide. The group's latest studio CD, The Tracks We Leave, may be the bands most exciting work to date, as their unique blend of world music elements showcases inventive new original and traditional material.
Tempest is regularly featured at prestigious festivals including The Philadelphia Folk Festival, Denmark's Skagen Festival, Britain's Cropredy Festival and The Winnipeg Folk Festival in Canada. The band is also a mainstay at countless American Celtic festivals.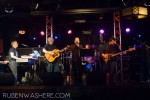 SONUS UMBRA
The past is but prologue. Back in the early 90's, three science students from the national university in Mexico City, Andres Aullet, Ricardo Gómez and Luis Nasser got together to form a band called RADIO SILENCE. From 1991 to 1994, the band played on, gaining a large cult following and a reputation for intense, unpredictable live performances. Inevitably, the band broke up, but the music and the meme lingered on.
In 1995, Nasser and Gómez moved to the East Coast of the USA under the pretense of pursuing scientific doctoral degrees, but all they really wanted was to find other players and continue what RADIO SILENCE had started. Two fruitless years later the search was abandoned and the two drifted apart; Nasser sulked in his apartment and alternated between writing music and working on his dissertation, while Gomez jammed and played with a number of different bands, ranging from punk rock to Spanish baroque troupes (which included the stretchy pants and full peacock garb).
In 1997, Nasser auditioned for a Baltimore-based band KURGAN'S BANE, led by guitarist Pete Laramee and his brother, drummer Jeff Laramee; a crisp, crunchy hard rock band of exceptional musicianship that had parted ways with their bassist and were on the eve of recording their debut album "Search from Sea to Sea". These sessions resulted in a a good friendship between Nasser and John Grant of Secret Sound studios in Baltimore, and the later discovery of a vast network of websites promoting underground prog rock made him curious to find out what the internet crowd might think of the material performed by RADIO SILENCE, back in the smoggy, boozy daze of Mexico City.
Nasser and Grant set upon the task of embellishing a demo of original material recorded on 8-track tascam tape machine for release. During the course of this project, Nasser invited Gómez and Aullet back to the fold, and the end result was a disc called "Laughter In The Dark" which, to everyone's astonishment, earned rave reviews, sold out in months, and inked the band a record deal with the now defunct indie label "Moonchild Records".
Nasser's musical chemistry with Jeff Laramee made his addition to the band as a full member in 1998 inevitable, and certain unfortunate legalities forced the band to re-name itself as SONUS UMBRA, which in pig latin roughly means "Shadows Made Of Sound". Since then, they have released three more critically acclaimed albums: "Snapshots From Limbo" in 2000, "Spiritual Vertigo" in 2003 and "Digging For Zeros" in 2005.
SONUS UMBRA went on indefinite hiatus due to the stress of continued existence in spite of vast geographical limitations: Gómez returned to Mexico City in 2000 where he is professor of mathematics at the National University. Nasser is a professor of physics at Columbia, Chicago and remains committed to recording and performing with his main band MIGHT COULD. Aullet is coding furiously in Sandy Point Idaho and Laramee remained steadfast in Baltimore, drumming with Pete Laramee and running a warehouse with his unusual gifts as both stunt fork-lift driver and a master of depraved English.
Working intermittently with his close MIGHT COULD bandmate Andy Tillotson, he and Nasser wrote music that eventually became "Winter Soulstice". The process began in late 2008 and concluded in April, 2013. A new incarnation of the band was formed with some of the most accomplished veteran musicians of the Chicago rock music scene, and is ready to release the first new album in 8 years and begin promoting the material live.