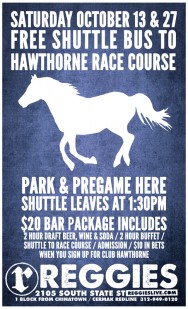 Hawthorne Race Course (Postponed)
Come to Reggies and let us take you to the Hawthorne Race Course in our Reggies Rock Bus! Shuttle leaves at 1:30pm. Get here early to pre-game and plan your bets.
Hawthorne is having a $20 Bar Package that includes a 2 Hour Buffet, Bus Ride, Admission, and $10 in bets when you sign up for club Hawthorne.
Sorry but this outing has been cancelled and will be rescheduled. Check the website for details.