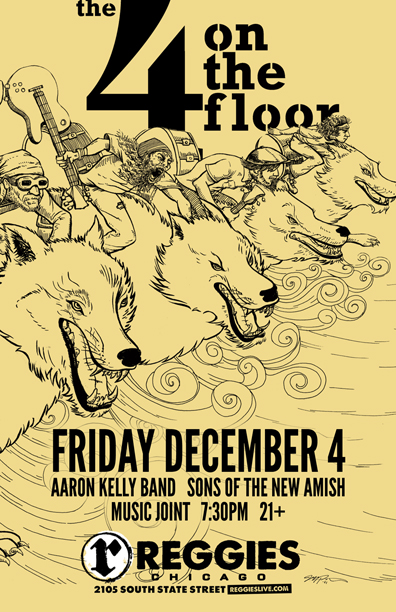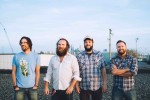 THE 4ONTHEFLOOR
The 4onthefloor deliver stompin' blues at an alarming intensity. 4onthefloor was born in the bottom of a bourbon bottle with the idea that it's effing time to have some fun and make amazing music as well. Audiences immediately took to the infectious driving feel of not one, but four bass drums pulsing to the beat of the songs. The music is inspired by the gutsy stomp of the Delta Blues and the hoe-downs from America's past and present. While 4onthefloor prides themselves on their original songs, they also love putting their signature stomp on covers from the likes of Wilco to Tom Jones. This makes 4onthefloor one of the most entertaining bands on the Midwest music scene today, and the world tomorrow.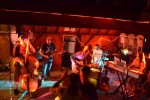 AARON KELLY BAND
The shadow cast by the city of big shoulders is a shade where a certain imagination gets ignited. Perhaps it's all the train tracks that harken back to when Chicago was truly freight handler to the nation, sending catalog dreams speeding over steel to far off corners of the country.
Aaron Kelly grew up in Plainfield, IL, thinking big and making plans, and wondering where those trains were going to. Falling under the influence of Townes Van Zandt, Hank Sr., John Prine, and contemporaries Todd Snider and Hayes Carll, his songs aren't too dissimilar from those crates and packages of the last century. They carry the promise that something good is coming. These are songs meant to ease a burden and bring a smile, carefully crafted and made to last.
Aaron has been featured by American Songwriter Magazine, and will release his first solo album in December 2015, after zig-zagging across the country for the last 7 years with his band, Overman.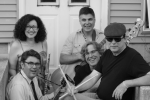 SONS OF THE NEW AMISH
The Sons Of The New Amish (SONA) continue on their never-ending "Goin' Back To Gravel" Tour in 2015.  Led by guitarist par-excellence and chief songwriter John Klingelhoffer, SONA travels across the ChicagoLand area from the fresh water marshes of DuPage County.  Always seeking out new disciples, to join in the fight against listlessness and dissatisfaction, SONA has the cures with the fictional honky tonk country song "The Pastor's Wife", and the Jethro Tull infused "Nancy Can You Tell Me".  John's surrounds himself with sidekicks, Joe Schumacher (bass), Steve Majus (drums), Nancy Dunlop (flute/vocals), and Jim Hurley (mandolin-guitar).  Some of their songs provide consumers solutions to their real estate woes, like "We Don't Call 9-1-1"  Others just plainly part of SONA's manifesto, including their "pay no more taxes" anthem, "Goin' Back To Gravel" SONA also mixes in all the unknown country music you'd ever want to hear and puts a Woodstock spin on it. Always entertaining, mostly on-key, SONA is not to be missed.