Alex Skolnick (Testament, Stu Hamm Band, Metal Allegiance):  GUITAR
Matt Zebroski (Brother Josephus, Daisy Joplin):  DRUMS
Nathan Peck (Maynard Ferguson, Maria Maldaur):  BASS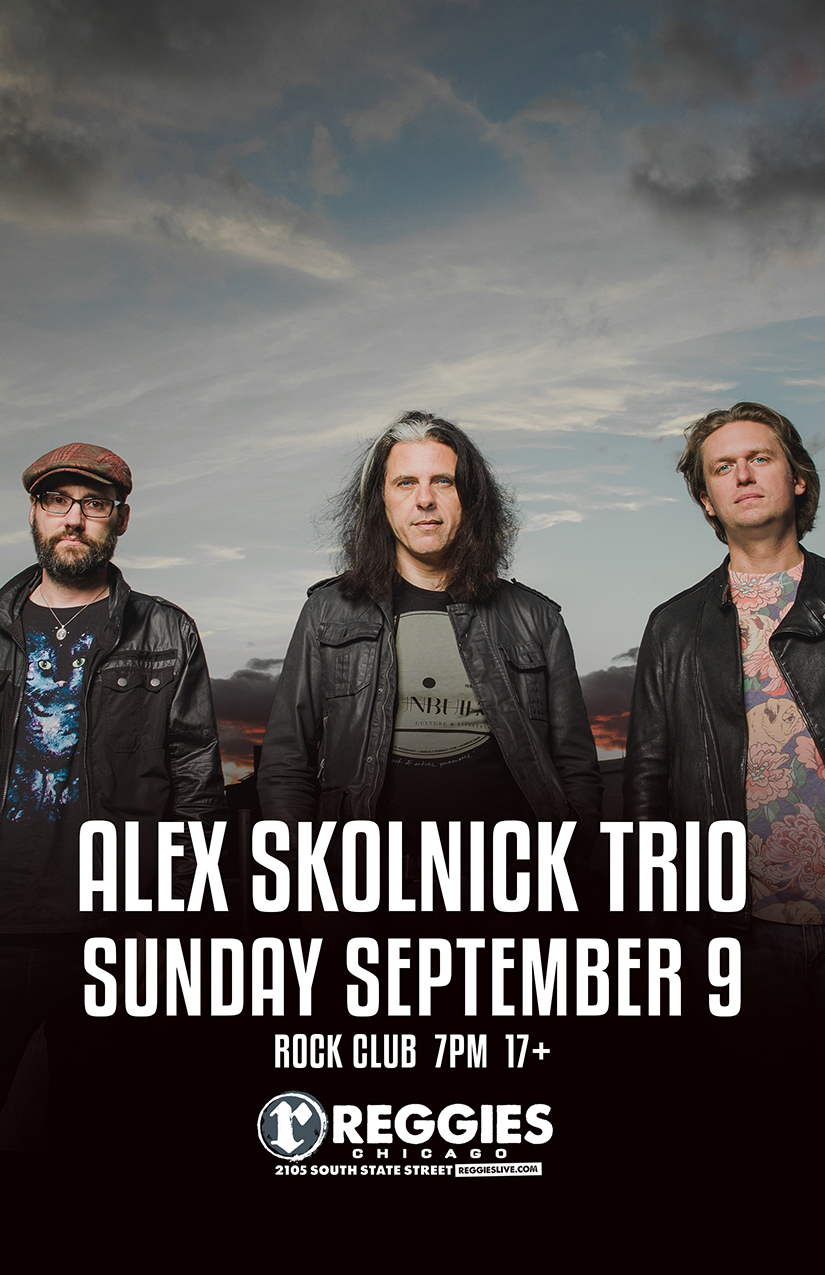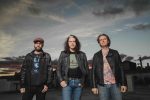 ALEX SKOLNICK TRIO
Alex Skolnick Trio (AST) are known for sophisticated re-harmonizations of heavy classics as well as quirky originals,  performed with a depth, humor, and virtuosity that enthralls fans across the musical spectrum. An AST concert will quickly achieve legitimacy in the eyes and ears of skeptical jazz fans, while at the same time introduce metalheads to the pleasures of music without moshpits.
Alex Skolnick has the unique distinction of being both an original member of Bay Area metal band Testament (which he joined at age sixteen) and a respected improviser of jazz guitar. Emerging as one of the original melodic thrash guitarists (alongside Marty Friedman), Alex later moved to New York and earned a BfA in Jazz from The New School, followed by several critically acclaimed albums with AST, whose recent live album, AST Unbound, was reviewed by Bill Milkowski (author of "JACO" and one of the most widely published jazz journalists since the '70s): "Skolnick runs the guitaristic gamut from lush chord melodies to Wes Montgomery-style octaves to screaming Sonny Sharrock-esque skronking" (Downbeat Jan 2017).
When not on tour with Testament (the band is currently slated to join Slayer's massive farewell tour), Alex can be found with AST playing The Blue Note in Milan, Agharta in Prague, New York's Iridium, Yoshi's in Oakland and various elegant venues across the world. He is also a first call player for jazz/rock projects including the Stu Hamm power trio, Jane Getter Premonition featuring alumni from Pat Metheny Group (Mark Egan) and Miles Davis (Adam Holzman), as well as "Celebrating Allan Holdsworth," in which Alex was one of several guitarists with the prestigious position of filling in for the late, great innovator at a series of shows with his (Holdsworth's) touring band. In 2016, Joe Satriani chose Alex (his former pupil), to be a primary guest instructor at his annual G4 Experience, alongside Eric Johnson, Mike Keneally and Steve Vai, followed by by a stint as the sole guitarist on faculty at Warwick Bass Camp, in which he taught and played alongside Alphonso Johnson (Weather Report) and Dennis Chambers (John Scofield/John McLaughlin).
Conceived during Alex's stint at The New School, AST came together when he and a fellow student, drummer Matt Zebroski, began incorporating metal melodies into their explorations of standard jazz repertoire. Bassist Nathan Peck, a fellow Pittsburgh Native of Matt's, was brought in a couple years later.
AST was chosen as support act by the immensely popular guitar duo, Rodrigo y Gabriela, performing in such venues as Paris's Olympia Theater and New York's Radio City Music Hall, while an AST tour of the UK elicited the following reactions from music journalists in Dublin and London, respectively:
"A wonderful display of rock infused jazz" (Dublin Concerts)
"Alex Skolnick is that rare thing, a passionate, innovative and adventurous guitarist." (GRTR UK)
"Originals & metal covers converted into jazz w highly satisfying results.  Sumptuous, technically proficient music" (Egigs.co.UK)
Upon their first ever headlining tour in Europe in 2016, the trio enthralled audiences in The Netherlands, Germany, Poland, Slovakia, Czech Republic, and Austria. The audiences were made up of jazz aficionados and metal heads wanting to see what the lead guitarist from the thrash metal band TESTAMENT is up to. Every promoter on the tour wanted him back, which led to the live album and follow up tour in 2017, including Italy, France and the UK. In concert, AST performs a mix of compelling original compositions, with radically altered yet heartfelt arrangements of Scorpions, Aerosmith, Ozzy, Judas Priest, and more, to standing ovations. Now, AST is releasing Conundrum, their first studio album in several years and their first to consist of entirely original compositions. We are putting together a U.S. tour to promote the release!
Alex Skolnick (guitar and vocals), Matt Zebroski (drums), Nathan Peck (acoustic standup bass) are stellar virtuoso artists who thrive on playing challenging music in front of their fans. AST delights their dedicated audience while breaking hallowed and, supposedly, mutually opposite music genres.
The international music press has been overwhelmingly receptive and effervescent in their support of the Trio. Since the debut, AST had had an entire Jazz notes column in Billboard, garnered 4 ½ stars by Downbeat, reviewed by Jazziz, The Village Voice and much more. With two successful European tours under its belt and more in the works, a new chapter is beginning for AST.