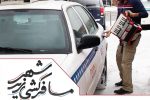 BAD MASHADI
Bad Mashadi is an Iranian-Semitic-Gypsy music project started by Persian vocalist/percussionist Ehsan M. Its current members are bass player Joey Spliberg, guitarist/oud player Alex Wing, and electronic artist Ronen Goldstein. Their style resembles wedding music of Middle East with the exception of lyrics that focus on the current cultural and religious conflict and war between East and West.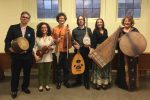 SHALIZAR ENSEMBLE
Shalizar Ensemble performs traditional Persian music from several regions and ethnic groups within Iran, along with music from Afghanistan and Central Asia. The ensemble was started in 2014 by members of the Middle East Music Ensemble at the University of Chicago, and includes a mix of Middle Eastern and American musicians performing on traditional percussion and stringed instruments from the Middle East and Central Asia, violins, and vocals in Farsi and other languages and dialects.
Shalizar is Farsi for marshy meadow, and is used to describe the landscapes in Iran where rice is commonly grown. The ensemble chose this name in homage to the marshy landscape of the Chicago region, and as a reflection of the interests of many of its members in environmental science and conservation.