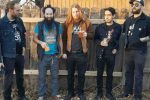 CARRIE NATION & THE SPEAKEASY
Carrie Nation & the Speakeasy is a high-energy "Brass 'n' Grass" sextet from Wichita, KS. The band, whose sound has been described as "…a stagecoach in overdrive", has brought their eclectic blend of punk, bluegrass, and dixieland to packed bars, basements, and festivals across the US since their inception in the spring of 2007.
With a lineup of great musicians, the band's live show is never the same twice. Brothers Jarrod and Zachary Starling provide acoustic guitar and drums/washboard; along with Dallin Bulkley on standup bass to round out the rhythm section. Garrett Briggeman adds to the energy with 5-string banjo, while Josue Estrada's trumpet provides layers of jazz and Western to the sound. Tyler Grubb holds down double solo duties, playing both mandolin and trombone. This blend of influences and instrumentation ensures a unique and interesting show each night.
CNS plays hundreds of dates a year hitting 47 states and 5 countries. The band has built a dedicated following with their energetic live show and ability to fit on the bill with acts ranging from bluegrass to rockabilly; punk to ska. Breakneck mandolin solos melt into blaring trombone and trumpet lines, while the standup bass and feed-bucket-trap-set churn out driving rhythms that carry the force of a Kansas freight train.
Thoughtful songwriting that explores deeper, more interesting themes is what sets this band apart from the multitudes of acts content with singing about Whiskey and Women. From social satire to labor union songs to Civil War Ballads to existential journeys that explore life, death, despair, and indulgence, CNS's songs will provoke thought, incite riots, and lure your children into a life of travel and debauchery.
With 2 original LP's (2010 Self-Titled, 2013 Hatchetations) and 1 split EP ( 2012 Liberty, Solidarity, Responsibility w/ Cletus Got Shot), CNS has built a repertoire of original songs that continue morph with the progression of the band. Another 2017 full-length is on the horizon that will prove to highlight the band's musical growth, and maturity of writing.
The band's DIY mentality is shown through their self-recorded albums, self-published music, self-booked tours, and a community of local and regional visual artists that show the band's distinctly grassroots approach. CNS has been pounding the highways and byways of this great country for 8 years now, bringing their songs and stories to thousands. Always providing a high energy, drink'em down atmosphere to any place they play, CNS has proven a dedication to their live shows with a solid understanding of what entertainment really means.
S. S. WEB
Hailing from the booze-soaked, frozen tundra of Milwaukee, Wisconsin, S.S. Web fuses elements of Folk, Punk, Americana, Rock, and Country into a style all their own.
For the better part of 7 years S.S. Web has been plying their trade, honing their skills as musicians and songwriters. They self released their debut album, "North", in 2011 and released it's follow up, "1933", in 2013 through Wayward Parade Records. The following two releases, both in 2014, included their third full-length album, "Skulls Will Sink", and a self-titled split 7″ vinyl with Ando Ehlers.
Taking to the road like marauding pirates take to the sea S.S. Web has played countless shows from coast to coast, bringing the party and a glorious racket wherever they go, making new fans and friends at every stop.
The tides may change, but the ship will always sail…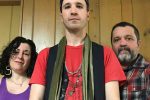 DANIEL LEWIS AND THE EXTENDED FAMILY
Mixing diverse sounds such as Folk, Alt Country, Psychedelic Rock, Punk, Gypsy music, and more- Daniel Lewis has been performing across America since 1995. Having started out in 90s Chicago Punk bands Secret Agent Bill and Headless Honchos, Daniel has developed his songwriting style over time into a more Roots-driven style, while never forgetting his past as a patches n pins covered kid who discovered Hank Williams one day and never looked back.
Lewis' current live band, The Extended Family, focuses on raw, electric Rock N Roll energy, with songs revolved around storytelling and plenty of white hot guitar solos.
Daniel Lewis has shared the stage with such Roots artists as Unknown Hinson, Sean K Preston & The Loaded Pistols, Jason & The Punknecks, Zander Schloss, The Tossers, Jason Loveall, and plenty of various other groups outside of the Roots scene including Rise Against, AFI, George Clinton & Parliament Funkadelic, Murphy's Law, Naked Raygun, 7 Seconds, Misfits, etc.
In January 2018, Daniel released his first full length album, a compilation of various full band electric and solo acoustic material. Included on the record are guest appearances by Grammy and Oscar winning performer Rhymefest, as well as guitar wizard Mark "Spiv" Grzelak of Simple Simon.
A new EP entitled "Beyond The Gates" – the first release featuring The Extended Family- will be released in Spring 2019.