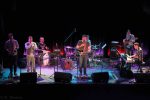 CHRIS SIEBOLD & PSYCLES
Psycles is an original project featuring many styles of music. Also, we can interpret your dreams!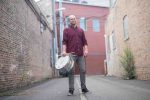 GREG ESSIG
Greg Essig is musician from Chicago, Illinois who is dedicated to perfecting his craft. Essig was born in 1990 and grew up in Plainfield Il. He attended Northern Illinois University for music performance. There he studied percussion and was fortunate to perform with some of the top ensembles there, including the NIU Steel Band and Jazz Ensemble. Upon graduation, he began performing regularly in Chicago playing with various artists spanning many different genres. In 2014 he became a member of the fusion group Marbin and toured extensively with them around the states. During this time Marbin opened for legendary guitarists Allan Holdsworth and Scott Henderson. Upon leaving the group Greg toured and performed with other artists such as The Jonathan Scales Fourchestra, and Sidewalk Chalk. In between tours, he keeps a busy schedule playing in his home town of Chicago performing with other local artists and corporate gigs. Greg is constantly on a mission to better his abilities as a musician and drummer. This is very evident in his performances, he clearly shows no signs of slowing down!