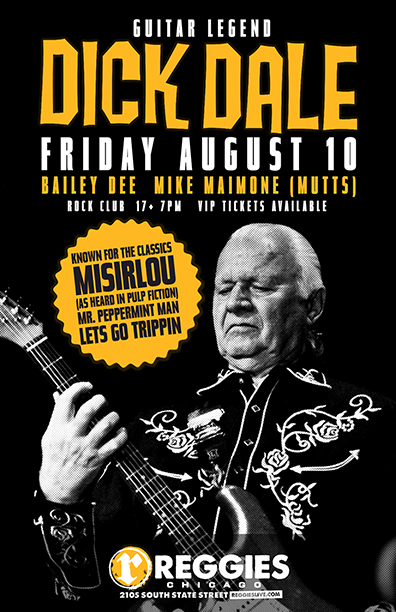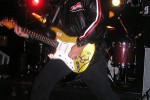 DICK DALE
The Dick Dale Phenomenon. His style is something different and unique. Since his first appearances Balboa, Ca. at the famed Rendezvous Ballroom, he has set and broken attendance records everywhere he's performed. His appearances at the Rendezvous Ballroom broke every existing record for the Ballroom by drawing capacity crowds of over four thousand screaming dancing fans every weekend each night down on the Balboa peninsula.
Dick Dale invented surf music in the 1950's. Not the '60's as is commonly believed. He was given the title "King of the Surf Guitar" by his fellow surfers with whom he surfed with from sun-up to sun-down. He met Leo Fender the guitar and amplifier Guru and Leo asked Dale to play his newly creation, the Fender Stratocaster Electric Guitar. The minute Dale picked up the guitar, Leo Fender broke into uncontrolled laughter and disbelief, he was watching Dale play a right handed guitar upside down and backwards, Dale was playing a right handed guitar left handed and changing the chords in his head then transposing the chords to his hands to create a sound never heard before.
Leo Fender gave the Fender Stratocaster along with a Fender Amp to Dale and told him to beat it to death and tell him what he thought of it. Dale took the guitar and started to beat it to death, and he blew up Leo Fender's amp and blew out the speaker. Dale proceeded to blow up forty nine amps and speakers; they would actually catch on fire. Leo would say, 'Dick, why do you have to play so loud?' Dale would explain that he wanted to create the sound of Gene Krupa the famous jazz drummer that created the sounds of the native dancers in the jungles along with the roar of mother nature's creature's and the roar of the ocean.
Leo Fender kept giving Dale amps and Dale kept blowing them up! Till one night Leo and his right hand man Freddy T. went down to the Rendezvous Ballroom on the Balboa Peninsula in Balboa, California and stood in the middle of Four Thousand screaming dancing Dick Dale fans and said to Freddy, I now know what Dick Dale is trying to tell me. Back to the drawing board. A special 85 watt output transformer was made that peaked 100 watts when dale would pump up the volume of his amp, this transformer would create the sounds along with Dale's style of playing, the kind of sounds that Dale dreamed of. BUT! they now needed a speaker that would handle the power and not burn up from the volume that would come from Dale's guitar.
Leo, Freddy and Dale went to the James B. Lansing speaker company, and they explained that they wanted a fifteen inch speaker built to their specifications. That speaker would soon be known as the 15" JBL -D130 speaker. It made the complete package for Dale to play through and was named the Single Showman Amp. When Dale plugged his Fender Stratocaster guitar into the new Showman Amp and speaker cabinet, Dale became the first creature on earth to jump from the volume scale of a modest quiet guitar player on a scale of 4 to blasting up through the volume scale to TEN! That is when Dale became the "Father of Heavy Metal" as quoted from Guitar Player Magazine. Dale broke through the electronic barrier limitations of that era!
Dale still wanted to go further, and as the crowds increased, Dale's volume increased, but he still wanted a bigger punch with thickness in the sound so that it would pulsate into the audience and leave them breathless. The JBL-D130 was doing its job until Dale froze it in the frame that held the speaker, the speaker cone would twist from the heavy playing from Dale and it would soon twist and stop to fluctuate back n forth.
Leo, Freddy and Dale went back to the JBL speaker company and told them to rubberize the front ridge of the speaker allowing it to push forward and backward from the signal of Dale's guitar without cocking and twisting. The new updated version was called the JBL D-130F; the F stood for Fender.
Leo, Freddy and Dale designed a speaker cabinet and in which they installed 2 -15"-JBL-D130F's. This caused Leo Fender to have to create a new and more powerful output transformer, they would call it the Dick Dale Transformer and it was made by the Triad Company.
This became the 100 watt output transformer that would actually peak 180 watts. Nothing like this had ever been done before in the world of guitars and amplifiers. This became known as the Dual-Showman Piggy Back Amp. This is why Dick Dale is called the Father of all the power Players in the world!
It is a Phenomena, that Dale is still playing with not only the same vengeance as he did in the 50's, but his playing is unleashed and shredding into the 90's with a focus and power as if from mother nature. He shares the stage with fellow players of all generations up into the alternative's of the 90's. Being completely self taught, Dick Dale plays left handed upside down which was a result of holding the guitar left-handed. The strings became upside-down, chords are designed for right handed players making it very difficult for a left handed player unless he were to change the strings for a left handed guitar, something that Dale never did.
Dale is also a master at the Acoustic, Electronic, Bass and Spanish Guitars'. As well as the Ukulele, Banjo, Drums, Piano, Organ, Electronic Keyboard, Harpsichord, Trumpet, Trombone, Saxophone, Harmonica, Xylophone and, believe it or not… the Accordion!
Dale was also responsible for another creation to the world of guitar players, "The Fender Tank Reverb". As Dale sang in his shows, he found that he did not have a vibrato in his voice, and he did not like the straight flat dry sound. to sustain his vocal notes, he turned to an old Hammond organ and found a reverb unit and showed it to Leo Fender and together they came up with the "Fender Tank Reverb". Dale then plugged a Shure Dynamic Bird cage Microphone into it and as Dale sang, his voice took on a very rich, sexy and full sound. Later, Dale then plugged his Fender Stratocaster guitar into the Reverb Tank to sustain his guitar notes which became Dale's trademark sound.) (NOTE) Dale had already been titled "King of the Surf Guitar" by his surfer friends before his creation of the Fender Reverb, Dale's first album called "Surfer's Choice" was the first Surfing album to be commercially sold with a picture of Dale surfing by the pier in San Clemente, Ca. with a surfing title on it. This album alone sold over eighty-eight thousand albums in the late 50's and today in the 90's it would be like 4 million. There was not one song on that album that had a Reverb for effects, everything was played with nothing but Dale's sheer force and power. A bit of trivia, Dale's recording of "Miserlou" became the title song for Quentin Tarantino's Blockbuster movie "Pulp Fiction".
Dick Dale has been called one of the hardest working men in show business. In the past five years he has maintained a heavy concert tour and public appearance schedule throughout the world. Focusing in Europe, Australia, Japan, Canada, South America and the U.S.
He makes time to endorse some of his favorite products, including Dean Markley strings, Dale's string sizes are 16p, 18p, 20p. 38w, 48w, 58w…they use to be 39w, 49w, 60w…..he says he's getting lazy now. Pearl Drums, Zildjian Cymbals, Graphtech String Saddles, Billabong clothing and Australia's Ugg Boot Company. Perhaps his most prominent endorsement would have to be for Fender Musical Instruments. Because of the popularity of Dale's signature playing, Fender added to their inventory of guitars, the making of the Dick Dale Signature Stratocaster which seems to be a favorite amongst the Dick Dale guitar players. John English, Fender's custom guitar maker set out to the task of building Dale's Signature Stratocaster guitar with Dale being the overseer. To be included with his favorites was the honor distinction to be the first musician ever to be endorsed by Telex Corp. Using the Telex FMR450 Digital Wireless which has made it possible for Dale to play his guitar walking into the audience.
Along with his Dual Showman Fender Amps, Dale is particular in what tubes that he uses to help create his sound, he has chosen Ruby Tubes from a company called Magic Parts located in Point Reyes Station, California (800) 451-1992
Dale has also recorded original material for Disneyland's Space Mountain roller coaster ride, and the soundtrack for the History of NASA video shown in Space Mountain. Dale's music is being used in all the Disneyland's throughout the world along with being featured in a Disneyland Music album which is being sold by Disneyland. May 21, 1998 a historical day for Disneyland, Dick Dale was chosen to be the person to highlight the grand opening of Tomorrowland by standing on top of Space Mountain (without the use of a safety harness) with his Gold Fender Stratocaster guitar (the beast) and play for all to hear throughout Disneyland "Ghost Riders"& "Miserlou" – Dale's music has gone down in the annals of Disneyland history.
Being a unique and versatile artist, Dick Dale is not limited to his musical skills. He has proved to be a respected Home designer and builder, personally designing and hand drawing the elevations and building his parents 7,000 square foot single story dream home in the California high desert so that he can be within easy reach to them. As of January 24, Dale's parent's celebrated their 62nd wedding anniversary, his dad is 86 and his mother is 81 years young. Dale is an accomplished Horseman, Exotic Animal Trainer, Surfer, Martial Arts Expert, Archer, and Pilot. His favorite plane is a Cessna 337B Super Skymaster, a twin tailed, front and rear engine aircraft which was also flown in the military and also sold to the general aviation pilots. Dale has a twin engine pilot rating.
Featured in various articles including the Los Angeles Times Calendar Section, Guitar World Magazine, Guitar and Guitar Player Mag and just recently the back cover of Fender Frontline Magazine with his 5 year old son Jimmy Stix holding their Fender Strats. And in 1981, Dick Dale was awarded Guitarist of the Year by Guitar Player Magazine.
2007 Dick Dale Presented 3rd only Personalized Medallion in 40 Years from Guitar Player Magazine as "Guitar Legend".
2006 Dick Dale Inducted the First Presidential Historical Society Lifetime Member in Quincy Massachusetts into the Presidential Historical Building.
2006 Dick Dale voted No. 1 Top Concert in 400 concerts and 400 Bands and Artists in Madrid Spain.
2000 Dick Dale Presented "Lifetime Achievement Award" by "The L.A. Weekly Magazine"
2000 Dick Dale inducted into the "White House Congressional Hall of Records" by Congressman "Jerry Lewis"
1999 Dick Dale Nominated for "Lifetime Achievement Award" by "The L.A. Weekly Magazine"
1998 Dale Performed on top of "Space Mountain" for Grand Opening of "Tomorrowland"
1997 Dale Recorded and Performed the Music for Disneyland "Space Mountain"
1996 Dale Inducted into the "Hollywood Rock Walk of Fame" – Hollywood, California
1996 Dale presented a Platinum Record award for his performance recording of Miserlou, the guitar instrumental that gave Quentin Tarantino the energy force to create the the all time award movie Pulp Fiction. Miserlou was made the Title song.
Dale awarded the Lifetime Pop Music Culture Award from UC Berkeley with Ice-T, John Lee Hooker and Mick Fleetwood (Drummer of Fleetwood Mac)
1989 Dale Inducted into the Surfing Hall of Fame located in the Hall of Champions building in San Diego, Ca..
1988 Dick Dale and Stevie Ray Vaughn Nominated for a Grammy Award for the music in the motion picture Back to the Beach.
1986 Dale was named Forefather of Rock and Roll by Thirty Years of Rock and Roll,
1963 Dale was the first power rock guitarist to be featured in a double page layout in Life magazine.
1963 Dale was the 1st rock guitarist to perform on the Ed Sullivan Show, The nation's number one national show.
Dick Dale was the first person to create the surf music sound. The first to take a sport and develop a music for it. He was also the first to have more than one record on the Top Ten charts at one time, and also to have five songs from a single album on the charts at once. He was first to sell out the Los Angeles sports arena.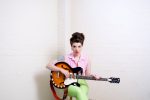 BAILEY DEE
Chicago's lead Rock N' Souler – Bailey Dee found the rock and roll handbook and reads it right! Reminding many of Sister Rosetta Tharpe, with the sweetness of Lorrie Collins, and the ferocity of a young Etta James. A full band backs her featuring members of legendary R&B Chicagoan Andre Williams band and ex-Million Dollar Quartet.
Screaming on a rocker in a way that would make Jay Hawkins proud, or coaxing tears from jaded audiences with a pining ballad, Bailey Dee covers the spectrum with ease.
Her northern soul/r&b and pre 60's rock repertoire is spot on, due to her extensive collection of vinyl which she DJs at legendary whiskey purveyor Delilahs every second Tuesday of the Month.
Come see what the fuss is about with this THREE TIME AMERIPOLITAN NOMINEE and most recently the 2018 WINNER IN THE ROCKABILLY FEMALE CATEGORY!!-
Bailey Dee and her Late Night Bait
R&B,Roots Rock, Rockabilly
Lead Guitar/Vocals
Bailey can also be found playing shows with-
The Saluda Moonlighters
Golden Age Western Swing, Hillbilly Bop, & Country Music
Rhythm Guitar/Vocals
Jonas Friddle and The Majority
Orchestral Folk, Progressive Bluegrass, Old-Time
Cello, Back Up Vocals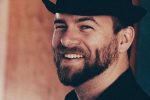 MIKE MAIMONE
Mutts frontman Mike Maimone "goes from zero to a hundred quicker than most," according to Daytrotter. Choose Chicago says, "He plays the piano with his feet. He swills whiskey between songs. He shouts and howls. He is an unstoppable music force." Vern Hester of the Windy City Times adds, "The man has the keyboard style of Fats Waller and Jerry Lee Lewis combined, and a vocal style that clearly recalls Tom Waits and Warren Zevon."
Maimone has averaged over 100 tour dates each year since 2007, primarily with his band Mutts and as a solo artist, as well as on keyboards for Company of Thieves and Los Colognes. He has opened for Imagine Dragons, Weezer, OK Go, Blues Traveler, and The Hold Steady among others, played Lollapalooza, Sasquatch, Riot Fest, Last Call with Carson Daly, and at notable venues across the country, from The Fillmore in San Francisco, to Emo's in Austin, to the Hammerstein Ballroom in New York.
Maimone released his solo debut LP Open Mic Nights, Empty Bottle Mornings in 2008. Going on to form Mutts with bassist Bob Buckstaff in 2009, Maimone has subsequently written and self-released 4 more albums and 4 EPs. In 2017 Mutts were named to WXRT's Local Anesthetic Best-of list for the second time. The most recent LP from Mutts, Fuel Yer Delusion vol. 4, is their fourth consecutive album to chart on the CMJ Top 200. More Mutts music is on the way in 2018, as well as a follow-up solo release featuring his new brass band.
Mike Maimone endorses Lewitt microphones and Nord keyboards, performing at the latter's NAMM exhibition in 2018.
$40 Above Stage
includes access to balcony directly above the stage.
$60 Red Chair
includes reserved chair in balcony above bar across from stage
$60 Front Rows Section
includes reserved chair within 3 front rows closest to stage.