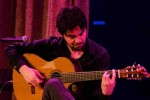 GORAN IVANOVIC TRIO
One of the most versatile, skilled, and curious musicians in Chicago, guitarist Goran Ivanovic has built a career built upon exploration. Born and raised in Croatia, he was in the midst of studying at the prestigious Mozarteum University in Salzburg, Austria with masters like Eliot Fisk and Joaquin Clerch when his parents (his father is a Serb, his mother a Bosnian Croat) were expelled in the late 90s; the family was granted asylum in the US and they settled in Chicago.
Since his arrival he's displayed a deep interest in collaboration, steadily expanding his stylistic range well beyond the European classical music and Balkan sounds he was fluently versed in when he arrived. These days his repertoire not only incorporates those disciplines, but jazz and flamenco as well. He's recorded duet albums with the great Pakistani-Chilean jazz guitarist Fareed Haque as well as Greek-American musician Andreas Kapsalis. He's a key member of the quartet Eastern Blok with Matt Ulery, Doug Rosenberg, and Michael Caskey, a combo that deftly surveys the folk music of Macedonia, Bulgaria, and Serbia in a distinctly jazz-oriented context, embroidering timeless Balkan melodies and rhythms with sophisticated improvisational gambits.
Most recently, Ivanovic released an eponymous trio album with bassist Ulery and percussionist Pete Tashjian where he's achieved a stunning assimilation of his many influences, creating a hybrid all his own. Reviewing the new album for All About Jazz, Budd Kopman wrote, "It is easy to get lost in Ivanovic's technique, especially if one plays (or attempts to play) Classical style guitar, in a jazz style or not." The trio's agility has also been noted. As Jeff Elbel wrote in the Chicago Sun-Times, "The trio are recognized for their individual virtuosity, but they show particular excellence as a unit able to stop on a dime and twist gracefully through the trickiest hairpin turns together on local stages."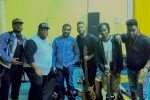 DON ALFORD & THE BLACK MAMBA
After playing on live recordings with a number of artists from 2003 thru 2010 Donald Alford II felt it was time to produce his own record. In May 2010, as owner of Don J Music Productions, Donald released his first project, entitled "Chasing Dreams". This inspirational jazz project resonates the sound and influence of instrumental jazz greats that have touched many lives around the world.
"Chasing Dreams" is the result of years of dreaming and chasing greatness. Donald Alford II received a vast amount of his musical inspiration from his father, Donald L. Alford Sr., an extraordinary songwriter, psalmist and composer. Growing up in Maywood, Illinois while attending his father's church, Donald II learned to value and love great music by listening to some of gospel's most influential musicians and artists.
As a young child, Donald found music to be one of his primary interests. He first began playing the guitar and later took interest in the bass guitar. While continuing to perfect his craft, Donald's amazing skill provided him the opportunity to become a full-time musician, not only in his local church, but in other churches in the Chicagoland area.
Donald Alford II is no ordinary bass guitar player. His soulful expression has gained him notoriety and allowed him to tour with gospel greats, such as, Kirk Franklin, Marvin Sapp, Yolanda Adams, Fred Hammond, BeeBee& CeeCee Winans, THE WINANS, Smokie Norful, Donald Lawrence, J. Moss, Walter Hawkins, De'Andre Patterson and Vashawn Mitchell. He has also performed with artists, such as, Pattie Labelle, Mary Mary, The Clark Sisters, Donnie McClurkin, Tramaine Hawkins, The Winans, Hezekiah Walker and Kim Burrell.
As his musical demand grew, he began writing and producing music with an infusion of various genres' gaining him musical credit as a songwriter, composer and producer for artist's such as Keyshia Cole "Trust" (Different Me), Syleena Johnson "Be Me" (Labor Pains Chapter 4) and being nominated for the 2010 Grammy's for Charlie Wilson "Supa Sexxy." Donald Alford II's awards include being honored at ASCAP's 23rd Annual Rhythm & Soul Music Awards, recognizing the song "TRUST" as one of the top ASCAP songs on the 2009 year-end charts.