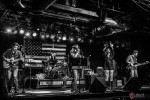 JEFF GIVENS AND THE MUGSHOT SAINTS
I've got boots, guitars and whiskey, that's all I ever need"
– Girl in Carolina, from the album, "Bourbon Cowboy"
Singer/Songwriter Jeff Givens is a road-seasoned troubadour. As a contemporary musical gypsy, Jeff travels the country, meeting folks from every aspect of life and listening to their stories. He lives this life, documenting it all in his songs. Somehow, writing through the haze of self-destruction like his heroes before him, (Kerouac, Burroughs, Lennon, Hank, Townes and others) he has prevailed and come out the other side, battling his demons by writing about them. Born in Tennessee and raised in Chicago, Mr. Givens is a music veteran of over 30 years and has played in many bands, from Chicago to Boston to London. Working with Jay Bennett from Wilco was one of his numerous experiences. Back in 2001, Jeff went all-in; he left his day gig and everything else to fully embrace this musical journey. Tramping around America, like another prince of skid row, he began writing songs that defined his life. Settling back in Chicago, Jeff reconnected with producer, collaborator and fellow hell-raiser, Jason Botka, to finish writing and record these songs. From the easy rooms of Skye Bleu Studios, "Bourbon Cowboy" was born.
In 2014, Jeff gathered his closest brothers in music for his sophomore album, "Midnight in Muscle Shoals", which was tracked on the sacred ground of Fame Studios in Muscle Shoals, AL. A founding member of The Righteous Hillbillies, Kev Wright added his southern rock flair on guitar and vocals, and Jason Botka brought in keys, organ, guitar and harmonica. All left the Shoals sessions feeling like they had "been to the mountain". Jeff knew something special had happened next to that Tennessee River, and it needed to continue. Once home, Johnny Gadeikis added his talents on bass and Luke Smith on drums to round out the Mugshot Saints. This diverse band, with many decades of combined writing and touring experience between them, developed both acoustic and plugged in line-ups and started gigging in some of the best rooms in Chicago; the Metro Chicago and Schubas to name just a couple. The Saints draw from outlaw country, southern rock and rock, blues and folk influences to create their multifaceted sound. Part Allman Brothers part Stones, with some Van Morrison and a dash of Father John Misty; The Mugshot Saints put on a show that will rock you to "holler & swaller" one minute, then with some old school folksy blues, you'll be crying in that same beer the next.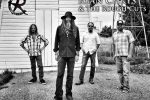 RYAN CHRYS & THE ROUGH CUTS
Ryan Chrys & The Rough Cuts bring forth new energy to country music fans who love the heroes and outlaws of old. Influencedby the songs and personalities of legends like Waylon, Willie and Johnny Cash and driven with a deep love for blazing guitars, gritty lap steel and lightning fiddle, the band is a beacon for the next generation of classic hearts. This is Modern Outlaw Country.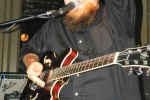 HUSKY BURNETTE
The Blues are a religion and Brian "Husky" Burnette sho nuff preaches it. You can feel the testimony as he blends Mississippi Delta, Rock n Roll and Electric Blues. His music is gritty, soulful, southern, low-down and dirty. Husky, following in the family footsteps of rockabilly kings Johnny Burnette and Dorsey Burnette, has written and toured with several national artists over the years. Two of which that stand out are lead guitar for legendary singer/songwriter Roger Alan Wade and the supporting act on tour for Hank Williams III. He has shared the stage with many others such as Leon Russell, Guy Clark, T-Model Ford, Scott H. Biram, Emmylou Harris and The Legendary Shack Shakers.