The Legions of Metal Festival 2020 is Postponed till 2021 due to Covid-19. We are working with all the bands to carry over as many as able to for the following year. The new date is TBA. Your tickets will be good for the new date. Refunds are available upon request. 
The Legions of Metal Festival was born out of the end of the Ragnarokkr Metal Apocalypse Festival. Legions of Metal Festival will continue to bring the best of the classic metal from the 80's that we all love and also bring in the newer bands who will carry the torch into the upcoming years in the metal world. You will be able to see some of the newest bands in the scene throughout the day and end each night watching the bands you grew up listening to. The fest will feature two stages and plenty of vendors.
Two Day Pass: $79 | Two Day VIP Pass: $120
Friday Single Day Ticket: $40 | Friday VIP Ticket: $60 | After 9pm $20
Saturday Single Day Ticket: $45 | Saturday VIP Ticket $70 | After 9pm $25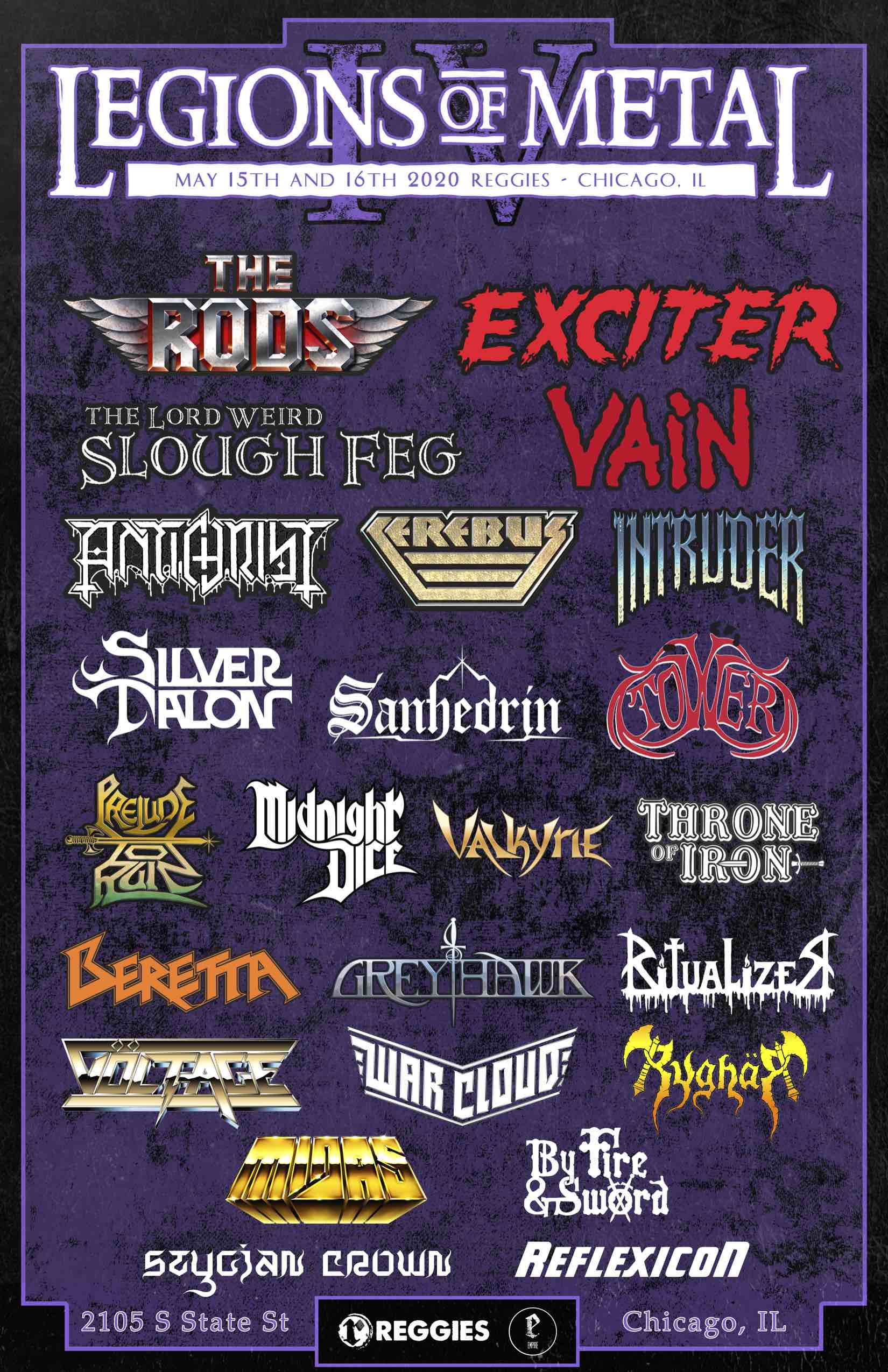 EXCITER
Exciter is a Canadian speed metal band from Ottawa, Ontario. They are widely considered to be one of the first speed metal bands and a seminal influence of the thrash metal genre. Exciter have sold nearly 300,000 units in the USA and a total sales close to 500,000 units worldwide. Despite many changes in personnel, the band has managed to keep a small but dedicated following for over 30 years.
In 1978, the band Hell Razor formed in Ottawa, Ontario. They consisted of vocalist and drummer Dan Beehler, guitarist John Ricci, and bassist Allan James Johnson. In 1980, the band changed their name to Exciter and recorded a demo which they then sent to Mike Varney of Shrapnel Records. Varney included one song from it, "World War III", on the compilation album US Metal Volume II in 1982. Shortly after that, the band were signed to Shrapnel Records. In 1983, they released their debut album, Heavy Metal Maniac.
Later that year, Exciter signed a record deal with Jon Zazula's Megaforce Records and, in 1984, they released their second studio album, Violence & Force. After a few opening dates with fellow American thrash metal band Anthrax, they embarked on their first U.S. tour with Danish heavy metal band Mercyful Fate. Exciter switched to a new label, Music For Nations, and traveled to London to record their third album, Long Live the Loud. It was released in 1985 and produced by Motörhead producer Guy Bidmead. It contained a slightly more "mainstream" heavy metal sound than the pure speed/thrash metal of the first two albums. After its release, the band went on a European tour with German heavy metal band Accept and later a U.S. tour with Motörhead and Megadeth. Before the year ended, Exciter released the three-track EP, Feel the Knife, which was the last release from the original line-up. Shortly after its release, John Ricci left the band and was replaced by Brian McPhee.
Along with a new guitarist came a new, more melodic sound. The band's fourth album, Unveiling the Wicked, was released in 1986 on the Music For Nations label. After its release, the band went out on a very successful European tour with Motörhead and American power metal band Manowar. It was decided at this time that Dan Beehler (who had handled both drums and vocals since the band's inception) would not sing anymore. New vocalist Rob Malnati was hired, and made his debut on the band's next album, self-titled (a.k.a. O.T.T.). The album was released in 1988 through the Canadian record label Maze Music. A Canadian tour followed but the band went on hiatus shortly after.
In 1991, Exciter re-emerged with Beehler on lead vocals again. John Ricci also returned to the band. Bass duties were handled by new bassist David Ledden. The band's first recording with this line-up was the song "Born to Kill" which appeared on a compilation album titled Capitol Punishment, which was released in 1991. The same year, the band went on a reunion tour in Canada, which would largely be focused on songs from their first three albums. The band's first live album, Better Live than Dead, which was released in 1993, had been recorded during their reunion tour at this time.
In 1992, the band signed to German metal label Noise Records and recorded their sixth album, Kill after Kill. The band went on a three-week European tour with Rage to support it. After the tour, the band disappeared for a second time. It would be three years before they would be heard from again.
In March 1996, an almost completely new line-up was announced. Ricci was the only returning original member. Jacques Bélanger was the new vocalist and Rick Charron and Marc Charron (both have no relation to each other) would handle drum and bass duties respectively. The new line-up played a few well received gigs in Canada before recording a new album, The Dark Command. The album was released in 1997. With one of their strongest albums in years, the band went out on a European tour with fellow Canadian heavy metal band Anvil and American thrash metal band Flotsam and Jetsam.
Between 1998 and 2000, the band was basically dormant with only two festival appearances in the two-year span. The summer of 2000 saw the release of the follow-up album to The Dark Command, Blood Of Tyrants. The new album was heavier and more aggressive than its predecessor. In the fall of 2001, Bélanger left the band due to "creative differences". A year later, Marc Charron quit to pursue a career in the technology industry.
At the beginning of 2003, a new line-up was announced, with Ricci and Rick Charron returning along with new vocalist Rob Degroot and new bassist Paul Champagne. This line-up only lasted until March 2003 when Degroot left. His replacement was former vocalist Jacques Bélanger. In 2004, Paul Champagne was released from the band. The band recorded their ninth studio album, New Testament, with Ricci on both guitar and bass. New Testament is somewhat of a compilation album of re-recorded classics from throughout the band's entire career. Later that year, bassist Rob "Clammy" Cohen joined the ranks. The year ended with the band heading out on a European tour with Swedish power metal band Steel Attack.
Exciter participated in a number of European summer festivals in 2005, including the Tradate Iron Fest in Tradate, Italy, Bang Your Head!!! in Balingen, Germany and Metalcamp in Tolmin, Slovenia.
Annihilator mainman Jeff Waters was able to get the rights back to most of Exciters' catalogue titles from the old labels and get them a new deal to re-release these titles. As well, Waters re-mastered these titles and new booklet infos, including comments from the original 3 band members, as well as additional photos were added to the re-releases.
In 2006, Exciter played Keep It True VI in Lauda-Königshofen, Germany. Shortly thereafter, Bélanger left again due to irreconcilable differences. He was quickly replaced in October that year by Kenny "Metal Mouth" Winter, from Brooklyn, New York.
The band played only one headlining show in Toronto, Canada in August 2007 thanks to an intense rehearsal and recording schedule involving a weekly 23-hour trek from NYC to Ottawa by Kenny Winter.
Twice delayed in December 2007 and January 2008, the band's tenth album Thrash Speed Burn was released on February 22, 2008 in Europe, and on March 4, 2008 worldwide. It has since garnered positive reviews from many a European fanzine.
The band's first European show for the tour, with the current line-up, saw their debut at the Atarfe Vega Rock Festival in Granada, Spain. Coincidentally, it also marked Exciter's first ever appearance on the Iberian Peninsula.
In February 2014, it was announced on the band's official Facebook fan page that guitarist John Ricci had decided to retire from the music business, departing Exciter and leaving the band with no original members. In April 2014, Ricci began claiming that the retirement statement was false, however the former band members maintain that at the time of the press release, the information it contained was accurate.
The original Exciter lineup reunited shortly after and will play their first european show on April 25, 2015 at Keep It True Festival
The will also play at Defenders of the Old Festival in New York on March 2015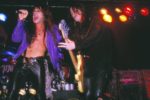 VAIN
Vain is an American heavy metal band from San Francisco Bay Area, California, formed in 1986. As of 2018, the lineup consists of Davy Vain (lead vocals), Joel Proto (guitar), Ashley Mitchell (bass) and Tommy Rickard (drums).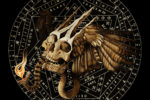 SILVER TALON
With a virtuosic guitar attack, a rumbling rhythm section, and powerful, soaring vocals, Portland, Oregon's Silver Talon is razor sharp and ready to become a major force in heavy metal. In February of 2018, Silver Talon released their first demo track "Devil Machine." The track offered a small sample of Silver Talon's ability to masterfully blend hook, melody, and technical ability into fist clenching, head-bangable heavy metal. Their second demo release, "Warrior's End," showcases more of Silver Talon's dexterity in riffs, bent time signatures, and lush melodies.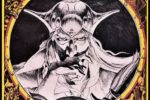 PRELUDE TO RUIN
Prelude to Ruin is the culmination of several years' of laziness and inaction, finally come to fruition after Ruiz became dissatisfied with the current state of affairs. Old-timey and unconcerned with the feelings of others, Prelude to Ruin writes music that it, and only it, likes.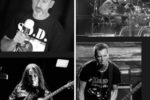 SA VALKYRIE
The heavy metal scene in San Antonio, TX was in full swing. Books have been written about the phenomenon. College courses were created to study it. Amongst the hordes of chaos, were the thrash warlords, Valkyrie. After releasing a cult classic demo, and playing shows throughout the state of Texas for a three year stint, they simply vanished.
Joe Gregory went on to get a finance degree from UTSA, start a family and is the author of six novels.
Scott Stine went on to play with multiple high profile touring acts. He was a Shrapnel Recording Artist whose album "Broke" received worldwide recognition and was featured on Liquid Note Records Compilation CD "The Alchemists" spotlighting 27 of the world's greatest guitarists. He's a clinician and pioneer for Ibanez's 7 string guitars. Also, under the Shrapnel label, he contributed, wrote and performed with Crimeny, Haji's Kitchen, Eniac Requim, and Tommy Lamey. Scott's endorsements include Ibanez, Rocktron, Hughes and Kettner, SIT Strings, and Swiss Picks. For the last twenty years, Scott co-wrote, arranged/produced, and recorded several CD's for his church. He still plays weekly for church services, weddings and various jazz ensembles and tribute bands.
In 2018, a renewed interest for San Antonio heavy metal bands, mainly from the eighties, progressed to a resurgence of local bands getting back together and performing again. Missing the good old days and camaraderie, Joe contacted Scott to see if he had any interest in performing or recording again. Thankfully, Scott said, yes! Needless to say, Valkyrie had unfinished business to tend to and release a proper offering for their fans. With that, the Choosers of the Slain EP was recorded and released in 2019 to the delight and praise of fans and critics alike.
The San Antonio thrash-metal pioneers are back with a blistering and unforgiving effort. If you're a fan of old school thrash metal and today's modern metal, you're going to love this band's unique sound.