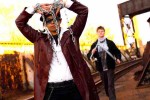 RADIANT DEVICES
»radiant devices« draw upon a wide range of genres and sources with an emphasis on art rock, downtempo electronic, and industrial / found instruments aesthetics. Distressed guitar riffs are layered on top of groove-heavy bass lines and downtempo synths, then punctured by textured electronic beats and metal percussion rhythms. The compositions are often built on contrasts of harsh, noise driven sections paired with mellow melodic passages; where as, minimal arrangements are contrasted with dense rhythms and undeniable punk energy.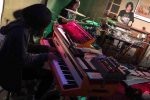 SPACE JUNK IS FOREVER
Space Junk is Forever use vintage instruments to weave simple melodies, stirring harmonic language, and frequent key and meter changes into impressionistic, aptly titled tunes that '70s prog lovers, mathy drummers, synthesizer geeks, and music theory nerds are all sure to enjoy.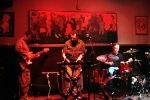 TIBERIUS STRANGE
Spawning from an idea about what a band would sound like in the Dune universe and spinning into something much more, three musicians have come together to explore the realms of sonic space-time through improvised jams. Come along and we'll see where the journey leads!
Improvised jazz-rock-funk-ambient-drum'n'bass-fusion from Chicago, Illinois
Charlie Short – Bass
Bill HIggins – Keys
Jerry King – Drums