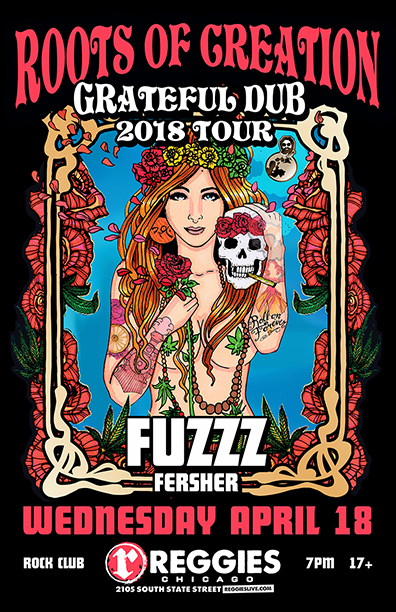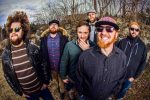 ROOTS OF CREATION
Billboard and radio chart topping, award-winning, international reggae-rock sensation Roots of Creation, are a touring powerhouse.
Whether on the festival circuit, performing at jam and reggae-rock favorites like Camp Bisco, Gathering of The Vibes, California Roots, Jungle Jam and Closer to the Sun, or sharing the stage at sold out shows with some of their diverse influences including Slightly Stoopid, The Wailers, and Michael Franti, reggae/rock/dubtronica band Roots of Creation (RoC) offers up a high-energy, infectious live music experience. Their mix of reggae riddims, conscious lyrics, spirited horn lines, and electronic beats makes crowds move and has their loyal underground fan base (RoC Family) and street team (Universal Soldiers) travelling the distance to pack venues from coast-to-coast.
Roots of Creation's most recent release, Livin Free (2016), debuted No. 1 on both the Billboard Reggae and the Relix/Jambands.com Radio charts. Livin Free is a triple record that includes three versions of each song–studio, dub, and acoustic that features guest performances by Melvin Seals (Jerry Garcia Band), Marshall "Ras MG" Goodman (Sublime, Long Beach Dub Allstars), the Rubblebucket horn section, Billy Kottage (Reel Big Fish), Grammy-nominated Pato Banton (Sting, UB40), and others. Additionally, the album welcomes guest production by Yeti Beats (Rebelution, Slightly Stoopid).
Now RoC has taken on a unique new project: Grateful Dub. Combining their longtime love for reggae-dub style music and the Grateful Dead, RoC reworked some of the world's favorite Dead tunes into a new studio album. RoC had the pleasure of working in the studio with the legendary 5-time Grammy winner Errol Brown who was Bob Marley's engineer and now Rebelution's live sound engineer for this project. Grateful Dub is also being performed live in its entirety at festivals, theatres, and clubs around the country, and features rotating special guests including Melvin Seals (JGB), Scott Guberman (Phil Lesh) full horn sections, and others. Grateful Dub captures the spirit and magic of the Grateful Dead, while laying it down reggae-dub style.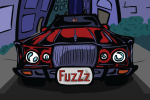 FUZZZ
Based in Chicago, FuzZz has been making crowds groove since mid-2011. The five-piece funk band merges heavy influences from the Meters, James Brown, and the Greyboy Allstars with strains of Jaco Pastorius and Stevie Wonder to create sounds infused with driving vamps, energetic blues progressions, and fiery solos. The group has made appearances all over their fair city and have traveled as far as New Orleans to play their blend of distinctive originals and reinvented covers, which can be heard on their debut album released in June 2013.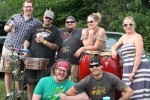 FERSHER
Coming out of Chicago with our own special blend of reggae, ska, bluegrass, punk and psychedelic dub. Fersher offers a little flavor for everyone.
Formed in December 2011, the band's members have played together in various bands and projects throughout the years and found a common sound in the heady jams that make Fersher.
With an ever expanding library of originals and a deep catalog of classic cover songs that fit right at home on any stage, Fersher makes people dance…period.