ADMIRAL OF BLACK
Admiral of Black is influenced by the decades of great rock, metal, and blues music that predates them. Located just outside the great city of Chicago, AOB pummel you with a destructive double guitar tone, thunderous rhythm section, ferocious vocals, and searing guitar solos. They've been called "motorized southern metal" "grimy desert rock" "meat and potatoes metal" and "metal as hell" And where has this gotten Admiral of Black? …Opening slots for: Black Label Society, Baroness, Karma to Burn, Black Stone Cherry, Priestess, US Christmas, The Dwarves…2011 brings a new album "Blood & Fire" along with the goal of more touring, living in the van, and destroying everything in their path.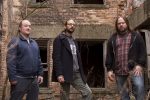 DROIDS ATTACK
Droids Attack laid it's first groove down in the small utility room of singer/guitarist, Brad Van's, legendary vintage arcade, Aftershock Retrogames back in the fall of 2000. Brad, and drummer, Tony Brungraber, had met at a video game resale shop years earlier, and had started jamming shortly thereafter. By this they time had finally found a bassist, Nate Bush, to join them, so everything was in place. They began writing songs, and focused on developing a sound for what was intended to be their long term project. Once a full set's worth of material was amassed, the band was off trying to land as many shows as it could. As fate would have it their first show was booked by then Crustacean Records representative, and future Droids Attack bassist, Darwin Sampson. It was a chance meeting that would help shape the group's progression in several ways. Darwin enjoyed the band's set that night, and saw potential enough to convince him they were a project worth adding to Crustacean's expansive roster. Their debut album, "All Your Chicks Are Belong To Us" was released in 2004.
The gears started shifting, and before you knew it Droid Attack became recognized as one of the best live shows around Madison. "All Your Chicks" was met with great acclaim, earning the band some excellent press, and a Madison Area Music Award for best punk album of 2004. Moving forward, Droids continued writing and expanding on their sound, getting more epic in scope and feel with their 2006 Crustacean Records release, "Fatal/Error." This album saw the group traveling outside of their Midwestern territory as the road beckoned them forth, most notably to Toronto for North By North East, and a Crustacean Records showcase in Austin at South By South West. Shortly thereafter, another independent label, Round 13 Records, took interest in the band and a split twelve inch record entitled "Thee 1987 Inch," was released with new label mates, Imperial Battlesnake, on the flip side in 2008.
As the band stayed busy on the road touring steadily in support of their Round 13 release, Crustacean Records clamped down on it's Midwestern focus with the hopes of branching off into more national territory, kicking out releases from acts like Killdozer, Off With Their Heads, Peelander Z, The Giraffes, and The Soviettes. Thankfully, the label continued to see value in their relationship with Droids Attack, and agreed to put out the band's third full length album, "Must Destroy" in 2010. A music video was released for their song, "The Great Wall Of 'Gina," and a buzz began, earning Must Destroy steady airplay on independent radio, and favorable reviews on metal blogs and international publications such as Outburn, Decibel, and Giant Robot. This exposure opened up more opportunities, and the band was invited to play some heavy gigs, opening up for national acts like High On Fire, Torche, Floor, Priestess, and performing at the nation's largest independent music festival, Riot Fest. It was at this time that the group decided if it was to ever move forward from here, they had to go big or go home. They decided to take a shot, and began writing material for their fourth album, "Sci-Fi Or Die," intent on giving it their best possible performance, and producing the best sounding recording they had ever achieved. Once enough new material was amassed, they began the process of demo recording.
Many challenges presented themselves to the band during this period of time, which culminated in a parting of the ways with Nate Bush in the midst of their demo sessions. It was a difficult hurdle to overcome, but in an effort to keep the project working steadily toward their goal, the band recruited Crustacean label mate, Dennis Ponozzo, bassist from Below The Sound, to fill in. The re-formed group hit the practice space, and before too long the band was back on it's feet. The demo sessions were revisited, and the band resumed their busy road schedule completing several regional, and national tours over the course of a year. By then, the group felt confident in their performance, and ready to begin the final recording sessions for "Sci-Fi Or Die." The process of seeking a studio and engineer to take on the final project had begun. But alas, it was not meant to be. Dennis could no longer afford to spend the time it would take to commit to seeing everything through, and had to step aside. Once again the project was stalled at a crossroads, but Brad had another capable person in mind.
Darwin Sampson, no longer affiliated with Crustacean Records, was now running his own venue in Madison, WI, The Frequency, and maintaining an active role in the local music scene handling bass duties for several bands in the area. A call was made, the invitation to join Droids was enthusiastically accepted, and it was evident from the very first jam session that this line up was a solid match. After familiarizing himself with the entire Droids Attack catalog, it was time to take another look at "Sci-Fi Or Die." Once again, the demo sessions were dusted off and pulled down from the shelf. After everything was completed to their satisfaction, Droids Attack booked time with Mark Whitcomb at DNA Studios to record and mix the final "Sci-Fi Or Die" sessions. Once everything was a wrap, Roger Lian at Masterdisk put the finishing touches on it, and after much consideration the band was satisfied that they had achieved everything they had initially set out to accomplish. "Sci-Fi Or Die" is to be released on the independent Midwestern label, Riff Reaper Records, on February 26th, 2016.