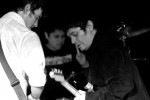 BLUE EYED JESUS
Ladies and Gentlemen…Blue Eyed Jesus! This trio from Chicago draws its inspirations from the dawn of Rock and Roll and beyond. Formed in 2009 by Chicago guitarist, Steve Vazquez (ex-Woolworthy, Thing 3), bassist Mike Dobervich (Duck You Sucker, ex-Umbra and the Vulcan Siege) and drummer Zafar Musharraf (currently The Swan King, ex-Toro! Toro! Toro!), the band weathered many setbacks (we'll spare you the details) but continued to charge forward. An early demo prompted one reviewer to write:
"Garage-y, proto-punks, Blue Eyed Jesus…. have(sic) absorbed many styles and influences into its music. There's definitely some blues-rock riffs combined with buzzy alternative rock rhythms and plenty of fuzzy vocals. It's a simple, yet hearty stew."
Audrey Leon, loudlooppress.com
Playing many of the great rock clubs of Chicago, BEJ have steadily been building a loyal fan base and continue to turn heads with every show. More and more, lovers of the Rock and Roll are coming back to satisfy their cravings for tube amps, heavy-foot drums, and guitar solos straight from the mouth of Godzilla. One blogger, after a second visit to a BEJ show, wrote:
"For this reviewer, BEJ continued to amaze her ears with the band's intermixing of genres heard amongst their songs. It's their use of edgy guitar hooks and upbeat tempos (even while performing the ballad -Tell Me Again) that fuels the loyal BEJ fans into a fanatic frenzy at each show. They were excited to hear such favorites Hey Beautiful, Long Hard Nights and closer Velvet Years but this band had two new surprises rockin' the stage for them…" She went on :
" New song, Too Late, jumpstarted this set with a loud rip-roaring bang in which SouthSide immediately liked the melodic rhythms …meanwhile Your Time (new song dedicated to the people in Libya, Egypt, and elsewhere) blasted the ears with hardcore guitar rock sound. This rock anthem was the highlighted featured of this performance for the way BEJ had the stage under an electrifying glow. Who knows when and where (Blue Eyed) Jesus will appear on stage again, blogspot readers, but do visit this band…"
– SouthSide Tanya Vega, southsideonthetown.blogspot.com (Mar 08, 2011)
Blue Eyed Jesus is excited to release the new Velvet Years EP, (Recorded with Dan Glomski of Balance Audio and Metro Mobile) and will be playing often in support. They will also be recording new material in the Summer of 2012.