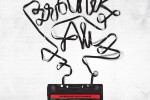 BROTHER ALI
I've lived and loved the culture of Hip Hop since I was in grade school, 1985. I use to study and memorize the greats like Melle Mell, Slick Rick and Whoodini. When KRS-One, Rakim and Public Enemy came out in the late 80's it blew my mind. I started writing and recording my own songs in Jr. High. By High School I was battling in cyphers everywhere I went and rockin' school dances. 

I met the Rhymesayers crew in the late 90's and learned the next level of DIY music. Ant and I started working together in '02. We made Shadows On The Sun and I started touring in support of Atmosphere (my label-mates and big brothers).
We toured constantly for the next few years with comrades like Brand Nubian, Immortal Technique and Rakim. The Champion EP dropped in 04 and we kept it moving.
Our last major release was The Undisputed Truth in Spring of '07. I had a great couple of years because of that record. My crew and I did our first headlining tours in the US, Canada and Australia. I was featured in The Source Magazine's "Hip Hop Quotable" and Rolling Stone's "Artist To Watch" columns. I played on TV a few times including Late Night with Conan O'Brien (Mint Condition backed me up for that one). I did a US tour with Rakim and Ghostface Killah of Wu-Tang Clan. I was also blessed to tour Europe and Australia several more times with Atmosphere.
This past March we released the final chapter in the Undisputed Truth movement. "The Truth Is Here EP/DVD is a collection of music that ANT and I made during the few precious breaks we had from our tour schedule. The DVD is my sold-out homecoming show from The Undisputed Truth Tour.
Ant and I just released our latest full-length album "Us". Whereas my last projects have been strictly autobiographical, this album opens the lens to showcase the amazing and sometimes tragic lives of my friends and loved-ones who have shaped me as a man. I hope that by illustrating these stories that are so dear to my heart, I might shed some light on how similar we all really are. Society makes us think we're in different worlds because of our race, religion, class, sex etc. I tried to make something that shows how alike we really are.