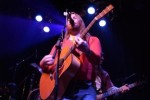 MR. BLOTTO
Mr. Blotto was born in Chicago as an off-night vehicle for musicians who loved each others playing but were in different bands at the time. The only rule was that they would only play what they loved. That philosophy continues today and has led Mr. Blotto into unique musical situations.

Mr. Blotto takes the Jam band asthetic into areas unfamiliar to the standard Jam Scene. They have been known to cover entire albums by Led Zeppelin and the Who as well as perform entire shows of Country and Reggae. Artists as diverse as the Grateful Dead, the Flaming Lips, Willie Nelson and The Velvet Underground have seen their material interpreted by Mr. Blotto in the 2000+ shows the band has performed in the last 15 years, yet covers only pepper the bands hefty catalog of original material stemming from five studio albums and other unreleased crowd favorites.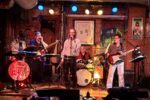 LITTLE GIANT
We took our name from the "Little Giant" Music Store which opened back in 1948 under the name Casa Mendoza, located at 3218 E. 91st St. In the early '60s, Renee-Mendoza moved to 9121 S. Commercial Ave.  And finally "Little GIant" of South Chicago was firmly planted at 9126 S. Commercial Ave.  If you were shopping Uptown, you were stopping at "Little Giant."  Mr. Mendoza retired in 1993 after enjoying 45 years of success.  We asked permission to use the name to keep the memories of all of us, and all of you, alive!
Little Giant….It's A South Chicago Thing.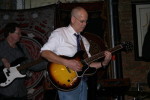 CHERYL AND THE DYNAMICS
Cheryl and the Dynamics play gritty electric blues and raucous R&B. They play at various venues in Chicago, most notably Buddy Guy's Legends and the main stage at the House of Blues. They are happy to be returning to Reggie's to bring their flavor of great Chicago music.