PUNCHLINE
Punchline is proud to be from Pittsburgh, PA.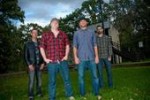 GUNNER'S DAUGHTER
"Dissolutions" is the title of Gunner's Daughter new three song Ep. Dissolutions, seemed to title itself due to unforeseen circumstances leading up to trying to release a combined effort with other bands/labels involved with the Ep. The band itself had a number of challenging endeavors to keep the ship arise & sailing on during the past year. Keith Rosson created the artwork for "Disolutions" & the band could not be happier with the final result. Dissolutions, along with their two previous Ep's "Trust Us When We Tell You" released in 2011 & "New Skeletons" released in 2010 can be found online via Bandcamp, Death To False Hope Records & all major outlets iTunes, Amazon, Spotify, Etc. The band has four national tours under their belt and the next time they are able to get away from their 40 hour graves they hope see you out!Gunner's Daughter began playing music that made sense to them, that had substance and would break down scene stereotypes. They began writing songs wanting to be that current band delivering heartfelt, honest rock. They also wanted to give younger generation the chance to become familiar with the bands that they are immediately influenced by like Hot Water Music, Samiam, Ann Berretta, Avail. Gunner's Daughter are not breaking new ground or inventing a new sound, they are simply tipping their hats to the forefathers that paved the road before them.
Gunner's Daughter has been spreading their message of melodic punk rock to the Chicagoland area, having the honor of performing at Chicago area venues as Reggie's Rock Club, House of Blues, Double Door, Bottom Lounge, and been able to share the stage with National touring acts, Silverstein, Fireworks, The Swellers, Polar Bear Club, Punchline. Gunner's Daughter has also been out on two regional tours.
Friendships have been forged and unspeakable bonds have been created by these journeymen Bassist Chris Ramos, Guitar/Vocals Chris Behm, and drummer Blake "Bam" Miller. The shared passion of honest, fresh, melodic punk rock amongst Gunner's Daughter have brought them together and given them the opportunity to add to that legacy. With a full pallet of songs accompanying these troubadours, Gunner's Daughter eagerly awaits to see where the future will take them. The next chapter in the Gunner's Daughter story is being written as we speak and the future is looking pretty damn good. See you on tour!!! SFP!!