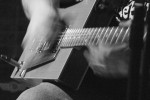 TEN FOOT POLECATS
Their sound, though hard to define, has been referred to as "punk-blues", "gutbucket soul"and "explosive stomp and groove". This high-octane trio from Boston, MA has been touring the country for the past five years, taking their unique form of roots music (influenced by the sounds of the northern Mississippi hill country) to cafes, restaurants, record stores, rock clubs, theatres, festivals and back yard parties, and playing for anyone who will listen. In 2010, they released their first full-length CD, "I Get Blamed For Everything I Do" (Hillgrass Bluebilly Records). Their new album, "Undertow" (also on Hillgrass), will be officially released in March/April 2013.
BACK ALLEY RIOT
After toiling away for years on the Northwest side of Chicago, Back Alley Riot busted down the doors of the punk rock scene, when original members, Mike Nakis (vocals/guitar), Matt Jankiewizc (drums), and Danny Starks (guitar/vocals), hooked up with bassist Russell Katzenmaier. Their sound unites blue-collar story telling with stage-shaking power chords, creating punk rock songs with a down-home twist. Back Alley Riot blends punk, rock, and southern boogie with an explosive live show that will leave you breathless and begging for more. With standout tracks like "Gasoline On The Fire" and "Gunfight", fueled by Russell Katzenmaiers
jaw-dropping bass lines, Danny Starks' raunchy chord attacks, and Matt Jankiewicz's relentless drumming, look for Back Alley Riot to cause a ruckus in the rock landscape for years to come.