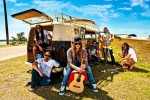 SOWFLO
SowFLo, an acronym for (So)uth (W)est (Flo)rida, from the "Paradise Coast" Naples, FL is a refreshing new take on contemporary Reggae music. With a distinct acoustic surf-rock/reggae sound, sowFLo sings a song of light-hearted melodies, whole-hearted lyrics and good vibrations. "We don't make music, we create movement."
sowFLo was conceived in 2009 when Jake Dorris (Vox & Ac Guitar) and Joe Records (Producer/Keys) linked up at a local party. The two began collaborating, and everything fell into place soon after. Already involved in the local music scene, the band was completed when close friends; Andre Beaudette (Drums & Percussion), Daniel Sahin (Lead Guitar), Christian Yacono (Bass & Vocal), and Nick Grim (Trombone) committed to the group.
The young reggae band released their self-titled debut EP in 2010, engineered by 5-time Grammy-winner Marc Lee and mastered by none other than Michael Fuller. Since then, their single "Paradise" has amassed over 130,000 views on YouTube, and is in rotation on Aruba's multiple radio stations.
sowFLo was recently voted #1 SouthWest Florida Reggae Band by over 25,000 online voters for the 1st Annual SPOT Magazine Awards.
Their newest 5-song EP titled "Rising", continues their working relationship with producer Joe Records, Grammy-winning engineer Marc Lee, and legendary Paul Fakhourie whose production credits include Bob Marley & The Wailers, Eric Clapton, Lauren Hill, Julian Marley, Damian Marley, Nas & Damian Marley, and Stephen Marley, among many others.
"Rising" EP is slated for world-wide release on Thursday, July 18th 2013, followed by a 30-day Midwest Tour. Upon their return sowFLo will be sharing the stage with Inner Circle, Tarrus Riley, Dean Fraser, and Rootz Underground at West Palm's Summer Jam 2013 on August 31st, and September 1st, 2013
Together, sowFLo exemplifies the message, "Everything is going to be alright," and lifestyle of being easy.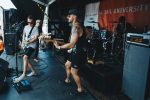 WILDER SONS
Wilder Sons was created on a humid back porch in South Florida in 2013 by indie scene veterans Brian Blount (Vox/guitar) and Jake Rubington (Vox/Guitar). Both experienced front men of previous touring bands, the two joined forces to construct a beachy alt-rock style that is stimulating the senses of the progressive alternative scene. Transcendent guitar riffs weave effortlessly between catchy melodies, upbeat bass lines, and complex drum progressions; all of which paint a captivating backdrop to Brian's reminiscent lyricism.
Their 2014 self-titled EP created a strong local following helping the group land opening gigs with bands like The Story So Far, Copeland, Turnover, Further Seems Forever, and Mewithoutyou to name a few. In 2016, Wilder Sons, along with the help of their devoted fans, ran a successful Kickstarter campaign to fund the release of their second EP, "Scatterbrain". Since it's release in November, Scatterbrain has been rapidly gaining the attention of Spotify listeners and Pandora playlists alike. It was also around this time that the group rounded out their line up with the addition of Dan Springs (Bass) and Nic Viens (Drums), both seasoned musicians who add a refreshing dynamic to the foursome. Wilder Sons continue to push the boundaries, creating a new sound that is pulsating through the prism of the Southwest Florida scene and beaming out to a national audience.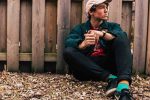 CO-STANZA
Co-Stanza (Jack Costanza & band) formed in his home town of Naperville, Illinois. Since then, he has experimented with many different genres before finding the alternative/indie rock sound they have. Pulling from folk, pop, and R&B, Co-Stanza has created a unique sound. At 20 years old, Co-Stanza's music is intensely relatable with lyrics and moods that capture the ups and downs of life.