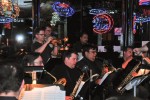 STARDUST BIG BAND
One of the most popular big bands in Chicago during the 1980's and 90's was the Déjà Vu Big Band. Now, several veterans of that group have come together once again to form the Stardust Big Band.
Led by award-winning composer-arranger Jon McGahan, the Stardust Big Band is dedicated to promoting and continuing the jazz traditions as practiced by Maynard Ferguson, Neal Hefti, Bill Holman, and Quincy Jones among others. This 10-to-13-piece ensemble combines inventive writing with vibrant solos by some of Chicago's finest big band practitioners.
The Stardust Big Band takes its musical influence from the classic jazz of the 1950's and 1960's, a time when martinis were in, class was where it was at, and bands like Count Basie, Woody Herman, Maynard Ferguson and Buddy Rich were taking the world by storm.
The Stardust Big Band has been the house band at both Cafe Touché in Edison Park and Romano's in Park Ridge, as well as having been featured twice at Bannockburn Green's "Music on the Green" series, and played to enthusiastic audiences at local venues such as  Wise Fool's Pub, Morseland, The Heartland Café, Crimson Lounge, Red Kiva and Gallery Cabaret.