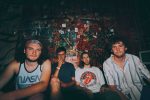 THE DEAD LICKS
The Dead Licks are an alternative rock band that met at the University of Dayton. Bands like Led Zeppelin, Radiohead, The Strokes, and Pearl Jam have heavily influenced them, and you can hear that in their sound.
The band met in 2015 at UD, when Jack Grbac (guitar) sent an email to the recording studio on campus. Lucky enough, Tom Inzinga (guitar, vocals) was the only one to respond. Soon after, Jimmy Gallagher (drums) joined the duo, creating The Dead Licks. After about a year of writing and recording, the group managed to release a three-song EP in August 2016. The band showed a lot of potential, yet still showed room for improvement. For a long period of time, the group was struggling to find a bass player. Lucky for them, Tom met Johnny McNamara (bass) in the fall of 2017. After about a month, the newly formed four-piece played their first show in October 2017.
Over the course of the next year, the band put a focus on live performances. After playing shows at local venues, word about the band started to get around the Dayton area. The band finally was able to venture out into new cities, including their biggest show at one of Cleveland's most legendary venues, the Grog Shop.
With more than a year of experience as a complete band, their focus shifted to recording new music. In the spring of 2018, they were ready to record. With the help of Ron Pease at Refraze Recording Studios, the band recorded their debut album "Stay Away from the Aliens."
"Stay Away from the Aliens" was released April 6th, 2018. The album consists of eight songs all written and recorded in Dayton, Ohio. The album art, wide variety of sounds, and overall theme of the record signify an important time in the band's short history. The album as a whole paints a vivid picture for the listener as to who the band was during their time at school. This record truly shows what The Dead Licks can do and gives way into where they might go from here.
Stay tuned.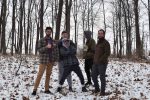 MOTEL BREAKFAST
Motel Breakfast is:
Conor Brennan
Jimmy Drenovsky
Jesse Nasadowski
Mick O'Donnell
Motel Breakfast is aband that plays music, drinks all your beer, and overstays their welcome. They currently split time playing shows between Chicago, Milwaukee, and Madison whenever they can.