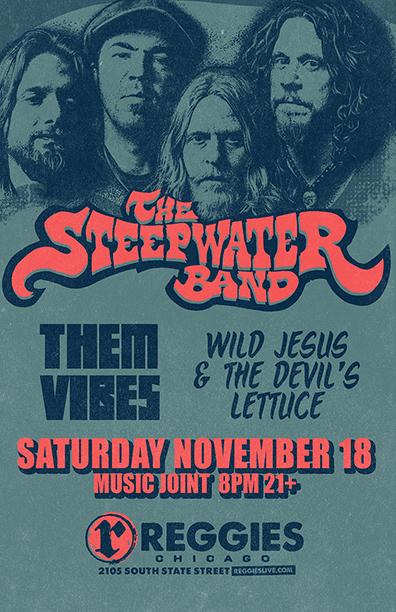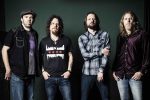 THE STEEPWATER BAND
Diamond Day Records is very excited to announce the release of The Steepwater Band's 6th full- length studio album SHAKE YOUR FAITH. The LP features 11 brand new TSB tracks, and is slated for release on Friday, April 1st via Double 180 Gram Vinyl, Compact Disc and Digital Download. The album was recorded last winter at Crushtone Studios, in the shadows of the Rock & Roll Hall of Fame, in Cleveland, Ohio. Shake Your Faith was produced by the band along with seasoned rock studio veteran Jim Wirt, who has also worked with the likes of Fiona Apple, Incubus and the Buffalo Killers. As with most TSB albums, the sound and songwriting on Shake Your Faith has grown and expanded, yet retained the true nature of the band. It's the first TSB studio record in over 4 years and the first to include "new" guitarist Eric Saylors.
With the additional band member, the songwriting approach for this record was different than it was on past TSB albums, when they were a 3-piece. Singer/Guitarist Jeff Massey comments on the TSB songwriting process…"Each song was different. I had a few totally finished songs, or Tod would bring a complete piece of music that would need melody & lyrics. And there were also a bunch of other musical ideas coming from both Eric & Joe, which we would all hash out togeth- er." Drummer Joe winters states "Everyone really brought ideas to the table, collaboratively, more so with Shake Your Faith, than with any other of our records. That really created a special vibe around the songs."
The arctic Lake Erie air made for a secluded and quick session, as it was all recorded and mixed within 12 days. "What better circumstances to record in?" says Eric Saylors, "There weren't any outside distractions!" The band entered the studio with a group of songs, but with very loose ar- rangements. Bassist Tod Bowers elaborates, "It really allowed everyone in the band to be inspired by the moment. Sonically inspired by what sounds you were hearing coming out of the speak- ers… what was happening in the room, musically between the 4 of us. And you can hear that in the recording."
Shake Your Faith has a wide range of sounds from straight ahead rock n roll to a psychedelic samba, and lyrical direction that extends from love to murder. This album is the true meaning of just that. An album – a collective piece of music that's meant to be heard front to back. Saylors adds "The way the whole record flows, it's like one long song… takes you on a little journey."
The Songs: Shake Your Faith – Mama Got To Ramble – Be As it May – Break – Bring On The Love – Jealous Of Your Way – I Will Never Know – Walk In The Light – Gone Goodbye –
Last Second Chance – Ain't Got Love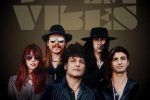 THEM VIBES
Them Vibes bleed rock n' roll.
Formed in East Nashville's underground rock scene in 2013, the band quickly shook the foundations of Music City with their blitzkrieg live show and soulful songwriting. Influenced by the rhythmic sway of The Faces and T-Rex and infected with the raw energy of the Rolling Stones and the Black Crowes, Them Vibes have injected new life into the anemic arm of what currently passes for mainstream rock n' roll.
Co-founded by singer-songwriters Brother Love and Alex Haddad, Them Vibes released their debut record, Shine On, independently and began hitting the Nashville and Austin scenes as a five-piece band playing coveted gigs at the High Watt, The Basement, The Mercy Lounge, The Continental Club, the Blue Bird Café, to name a few. Their wild, high- voltage revival of a live show was brought to festival crowds at Austin's SXSW; they were the headliner at The Tomato Music And Arts Fest; opened for the Flaming Lips at the Sound Harvest festival; and, in front of thousands of onlookers, they have opened for such classic artists as Lynyrd Skynyrd and Molly Hatchet.
Them Vibes' sophomore release was the heavy hitting EP TV. Grammy award-winning producer and engineer Richard Dodd (Tom Petty, George Harrison, Counting Crows, The Civil Wars, Kings of Leon and Wilco) took the helm as producer. The result was a five song cliff dive of psychedelic, hard driving, slinky grooving, swamp-howling rock n roll.
The single "Mammas Gotta Secret" took radio by storm, with national radio play on over twenty stations nationwide. Network television began to taken notice, as well. Both album's respective cuts garnered placements on ABC's Nashville, NBC's Grimm, Fox's Cooper Barrett, and CMT's Redneck Island and Dude Perfect, and the Netflix Original series The Ranch. Their biggest commercial success was led by their raucous song Crying Shame, which was chosen by T-Mobile to lead their spring campaign.
Off the heals of their strides stateside the band turned their attention across the pond embarking on a month long European tour. Playing sold out shows in Germany, France, Belgium, Slovakia, and Spain, gaining critical acclaim, radio play and most importantly throngs of new fans.
When they returned to the U.S the band went right to work writing and recording their new album Electric Fever. Larry Florman (Brother Love), Alex Haddad, lead guitar player Kyle Lewis, and the prodigious, up and coming Nashville producer Bobby Holland wanted to make the most ambitious rock n roll record to come out in the last decade. With the help of the rhythmic fury of drummer Sarah Tomek (Steven Tyler, Maggie Rose, Loving Mary, Raelyn Nelson) and bassist Judd Fuller (Rodney Adkins, Buck Johnson of Aerosmith), Them Vibes did just that. Recording everything full band and live at Addiction Studios in Nashville, Electric Fever is a kaleidoscope of sound and sonic ecstasy. The twelve side LP is colored in Muscle Shoals soul, hip shaking beat break funk, southern rock harmony guitars, tribal heavy rhythms injected with rock n roll ferocity, broke down acoustic delight, and all and above driven by harmony and groove full speed ahead.
The self titled single Electric Fever has already been leaked to the number one independent radio station in the United States Lightning100, and in its inception has caught quite a buzz. The single, due to popular demand, has been officially released on iTunes and every major music streaming platform, and the album Electric Fever is due out late spring.
The band will be hitting the US interstate in support of their new record.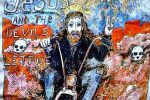 WILD JESUS AND THE DEVIL'S LETTUCE
Wild Jesus and The Devil's Lettuce Family Party Band is a community of musicians with the uncanny ability to surprise you every time they take the stage. As one might expect from such a strangely named group, Wild Jesus' sound ranges from noir waltzes all the way to effects laden, impressionistic, psychedelic grooves.