Free Buffet & Hosted Bar 5-8pm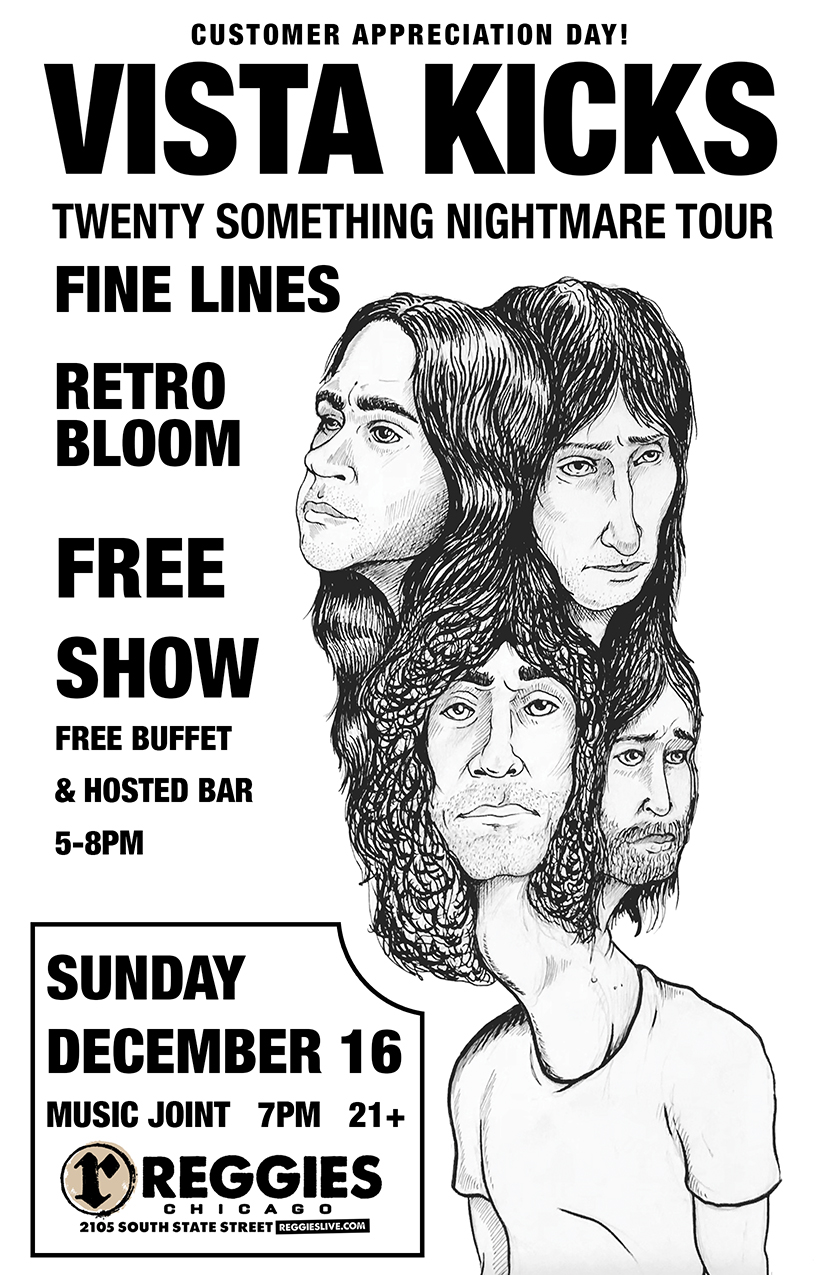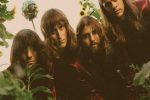 VISTA KICKS
Vista Kicks, originally from Sacramento, had released 3 tracks on their own between 2014 and 2015, which have amassed 3.4 million Spotify streams and over 3.2 million YouTube plays. They've since relocated to Hollywood and in early 2016, released the self produced 6 track collection, 'Chasing Waves', on their own imprint Little Hook Records.
About 'Chasing Waves', vocalist Derek Thomas says, "We made it in Sacramento in the presence of our closest friends and family, this first EP is the most honest representation of ourselves currently."
Chasing Waves (2016) made Apple Music's Featured New Artists page and lived on the homepage of iTunes for four consecutive weeks. They've toured the US with Swim Deep, and now they're touring the West Coast and Southwest this spring with Save Ferris. Vista Kicks' music is a fast blend of good ol' Rock N' Roll, Funk, and Pop. Their shows are electric, they make impossible not to dance and have a great time.

"…Chasing Waves has all the warmth, the fun, and the strife of a young band reeling from the unadulterated struggles of being twenty-somethings just trying to get by in a fucked-up twenty-first century world.." – Mitch Mosk, Atwood Magazine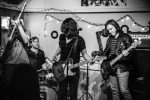 FINE LINES
By: Jack Evan Johnson,
Like Jagger and Richards, Lennon and McCartney, and peanut butter and jelly, some things combined are better than their individual parts. Fine Lines, one of Nashville's best new rock 'n' roll bands, is no different. Comprised of two members of Indiana's hard rock music scene, and two former members of a prodigious Alabama bar band, Fine Lines converged in Music City to make a sound that is both aggressive and soulful, sweet and sour, sticky and smooth.
Like all great rock 'n' roll bands, Fine Lines started with a restaurant job — no, wait. That came later. It actually started with powerhouse singer and guitarist Chris Probasco trying to pick up the pieces after the dissolution of his Indianapolis-based hard rock band Goliathon, which he says "died the natural death" of people moving in different directions and starting families. Though the riff-heavy Goliathon was a fixture in the midwest music scene — once opening for hard rock behemoths The Sword — the band's breakup allowed Probasco to develop his own songwriting. "I learned how to make my own demos, and write and rediscover what I wanted to do," he said.
Probasco moved to Nashville in 2015. He cut his hair and his beard to get a job at a hotel, and despite once delivering room service to a very hungry Mick Jagger, it was far from the rock and roll life he desired. "I was doing what I had to do to get a foot in the town," Probasco said. So he kept writing, and waiting. Things started to come together when Probasco saw his co-worker B.L. Reed play, with longtime drummer James Thompson on drums. "I immediately thought, 'There it is. They're exactly what I want,'" Probasco said.
Reed, a singer/songwriter and southern rock guitar whiz from Alabama, had been living in Nashville for some time playing with his own band and others, most notably breakout Americana artist Kashena Sampson. He and Thompson had been a team since the days of their Birmingham, Alabama blues rock group Blue Moon, which, as teenagers, tore up southern stages with a debt to The Black Crowes and Guns N' Roses, and even once opened for Blind Melon. "(Fine Lines) gave me an outlet to kinda go back to my roots of playing, which was rock guitar," Reed said.
Not long after a couple informal jams with Reed and Thompson, Dustyn Roth, a fellow Indianapolis musician, with a background spanning from garage rock to a Prince cover band, told Probasco he was moving to town. Probasco told Roth he needed a bassist. "It sounded great from the first note. It all felt very serendipitous," Probasco said. And with a lineup in place, he said, Fine Lines were "off to the races. It was like the music in my head was being played." The band began working on its debut album at Nashville's Gnome recording studio in late 2017, with producer Don Bates. And in January 2018, Fine Lines locked in a month-long residency at popular East Nashville rock bar The Cobra.
Despite its strengths, Fine Lines is not a vocals band. And not a guitar band. It's just a good band. And when done right, that's all you need to be. "I think of us as a rock band. I don't put 'alternative' on the front or 'garage' on the front," Probasco said. "My hope is people just can't get the songs out of their head."