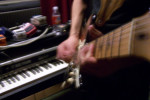 WHITMAN
Filled with drunkenness, long nights and debauchery; Whitman's Weekends is precisely reminiscent of what its title suggests, a whole lot of fun.
The 11-track record features topics ranging from weekend flings ("NW Thurman,"" Manchester by the Sea"), the struggles of touring("Dead Dog Days", "Light it Up") and the joys of drinking and carousing with friends, both close and lost("Barstools", "Day Drink Pt. 1 & 2"). Just in case there was any question, Whitman proves they've done their rock n' roll due diligence with influences ranging from The Replacements, Elvis Costello & the Attractions, Wilco and The Hold Steady. All the while, the album never loses touch with the band's core aesthetic and keeps everything up-beat and energetic; while keeping the listener constantly engaged through singing along, keeping a cold beer in their hand and getting the odd desire to give out sweaty high-fives.
Weekends was recorded by Whitman, produced and mixed by David Dreesen, and Mastered by Bob Weston and was released on Sonora Records on April 17, 2012.