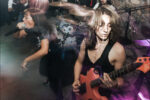 ESCUELA GRIND
Kerrang! described ESCUELA GRIND as "unbelievably hostile." The band named an early EP PPOOWWEERRVVIIOOLLEENNCCEE and another one GGRRIINNDDCCOORREE. Yet somewhere beneath the punishing blast beats, ferocious guttural growls, and noise worship lurks a gooey center of resilience and even, dare we say, hope. See, ESCUELA GRIND is all about intersectional progressive revolution, inclusivity, and good vibes… Delivered via captivating carnage.
Revolver counted ESCUELA GRIND among 5 Bands You Need to Know, noting they "offer variance to the tired blast-blast-blast trope, mixing in elements of death metal, doom, noise, and more." They command diverse crowds with ease, having shared the stage w/ bands such as Converge, Infest, Wormrot, Sanguisugabogg, SeeYouSpaceCowboy, Hatred Surge, and others.
The music might be terrifying, but the overwhelming spirit behind ESCUELA GRIND is a message of empowerment. As they destroy musical boundaries, the quartet attacks the idea of "gatekeeping" with equal ferocity. In fact, they already serve as a gateway drug to newcomers, fighting against the snobbery too-oft inherent in extreme counterculture as they gleefully deliver their brutal death grind.