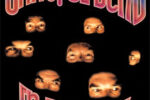 GRATEFUL DEAD "IN THE DARK"
In the Dark is the twelfth studio album (nineteenth overall) by the Grateful Dead. It was recorded in January 1987, and released on July 6, 1987.
In the Dark was the band's first album in six years, and its first studio album since 1980's Go to Heaven. It became unexpectedly popular, achieving double platinum certification in the U.S. It reached No. 6 on the Billboard 200 chart, the Grateful Dead's only top ten album. The peppy "Touch of Grey" peaked at No. 9 on the Billboard Hot 100, the band's only top forty single; it also became a frequently played music video on MTV. "Hell in a Bucket" and "Throwing Stones" (for which videos were also made) also achieved significant album-oriented rock radio airplay.