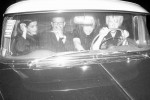 I LOST CONTROL
Entering its second iteration, I Lost Control is rockin' as strong as ever.
Stevo continues to lead the charge with 360s, knee drops and angel wings on stage. First lieutenant Tennent backs him up on lead axe, walking the fine line between subtle hooks and uncontrolled feedback. He remains the band's genuine gloomy British connection.
Tina L Sunny joins them to add a wealth of Indiana indie rock heritage on the bass. She also brings an innate knowledge of herbal remedy cures. This is why the faint scent of peppermint pervades every I Lost Control show.
The band rounds out with a percussive story that has beginnings in 1981 Athens, GA. JB spent the next twenty years wandering around the US with his paint brushes and drum sticks before chancing upon the I Lost Control 'Factory' studio. He needed a band. They needed a drummer. They all loved German meat balls and schnapps.
Thus, they became four.