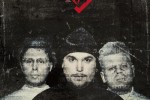 SITD
Bone-crunching beats, apocalyptical electro hymns and very energetic live appearances. Hailing from Germany's real industrial heartland, the former coal and steel centers of the Ruhr area, [:SITD:] made a name for itself a while ago, and can be counted amongst the most acclaimed electronic projects of the present international club scene.
[:SITD:] was formed in spring 1996, the members are Carsten Jacek (Vocals, Lyrics), Thomas 'Tom' Lesczenski (Music, Programming, Backing vocals) and Francesco 'Frank' D'Angelo (Keys).
[:SITD:] stands for "Shadows In The Dark", which is a metaphorical expression for the music and lyrical content of the band.