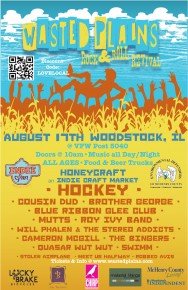 RIDE THE BUS TO WASTED PLAINS
Ride the Reggies Rock Bus to Wasted Plains "Rock n Roll" Revival in Woodstock IL on August 17th!  We'll get the good times started here and continue the party on the bus to Woodstock for this music fest that includes Hockey, Cousin Dud, Brother George, Blue Ribbon Glee Club, Mutts, Roy Ivy Band and  more!
Meet around noon (or earlier!) at Reggies, but will leave at 1PM.  Return trip back to Reggies will depart at midnight after the festival ends.
Buy your ticket in advance to guarantee a spot! Includes admission to Wasted Plains and bus fee. check out http://indieinn.com/wastedplains/ for more info