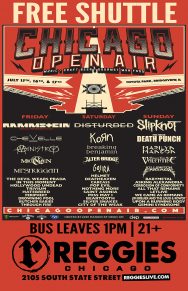 SHUTTLE TO CHICAGO OPEN AIR FESTIVAL
Start the party early at Reggies Music Joint, then hop on our FREE bus shuttle to go to see Chicago Open Air Festival featuring Rammstein, Chevelle, Disturbed, Korn, Slipknot and more at Toyota Park! 
Buses are free but there is limited seating. It is first come first serve. We recommend arriving early to secure your wristband and spot on the bus. Enjoy food and drinks and check out our record store before the shuttle leaves!
Two shuttles are scheduled, one will depart at 2pm, and the other at 5pm on Friday. Return trip back to Reggies will occur after concert ends.