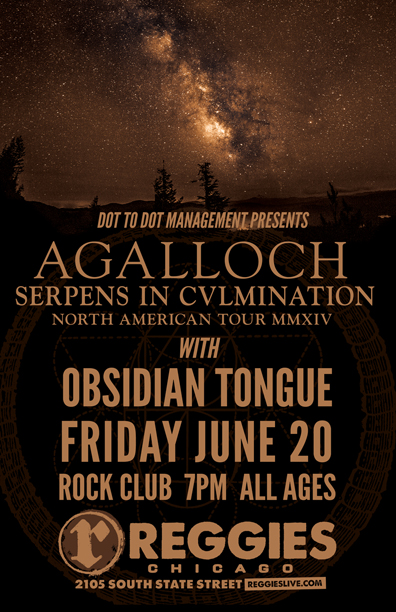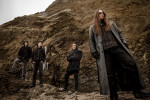 AGALLOCH
Despite their style being firmly grounded in the dark metal genre, Agalloch has always been a band who prefers experimentation over settling on a niche. The result has been three full-lengths and a handful of EPs that have bridged the gap between gothic doom, black metal, neo-folk, post rock, and industrial/ambient soundscapes. The band has earned a rabid cult following over the years due in part to their artistic & independent attitude, elusive aura, and scarce but volatile live performances.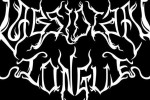 OBSIDIAN TONGUE
Founded in January 2009 as a solo project by Brendan James Hayter.
An album was recorded on a Tascam 4-track in the summer of 2009, only to be discarded and used as demo material to find other members. Greg Murphy joined the band in November 2009.
Satisfied with their sound as a duo, they recorded a demo of all new songs in February 2010, once again on the same 4-track cassette recorder that begun the project. 100 copies were dubbed and hand-numbered and sold at shows when Obsidian Tongue begun playing live in the Spring of 2010.
After another demo, the Subradiant Architecture demo in 2011, their debut album "Volume I: Subradiant Architecture" was recorded and mixed onto vintage tape machines in March 2012 at Mystic Valley Studio in Medford by Alex Garcia-Rivera. The album was tracked on 2″ tape and mixed down onto 1″ tape. The sound is organic and raw, allowing the compositions and natural tones of the instruments to speak for themselves.
They self-released the album on CD under their own newly founded imprint Dissociation Records on May 25, 2012, backed by a distribution deal with Ragnarok Records.
The release was followed with another string of live performances within their native region of New England, including a direct support slot opening for black metal titans Agalloch and Fen in October 2012. This was followed by their first tour in November 2012, trekking across the east coast for 2 weeks. The journey proved to be a success and the band intends to tour much more in the future.
With nearly 5 hours of music composed and ready for release, the duo will continue exploring and celebrating the psychedelic, cathartic and unifying principles of extreme metal until the end of their days.