"The Bladerunner Project, a John Zorn outfit including the godlike talents of Zorn on his signature instrument, prolific modern musician and bassist Bill Laswell, and heavy metal drumming powerhouse Dave Lombardo (Slayer, Fantômas, etc.) will deliver an electrifying performance at Reggie's for Bladerunner's United States premiere as well as their ONLY midwestern date on Saturday, May 3nd, 2014. The Chicago date will only be preceded by a Bladerunner performance at the Adelaide Festival in Australia in March of 2014. The music created by these gentlemen is something to experience first hand. It's not jazz, it's not rock, it's not funk, but all of these combined.
Coming from out of town? Enjoy a special rate at Chicago South Loop Hotel, conveniently located just blocks away from Reggies.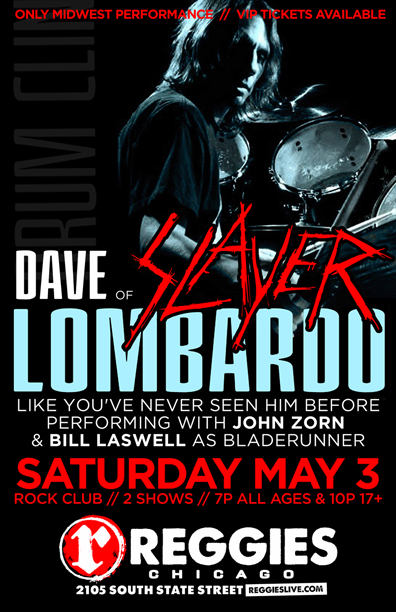 BLADERUNNER
(featuring Zorn / Laswell / Lombardo)
"John Zorn is an American avant-garde composer, arranger, producer, saxaphonist and multi-instrumentalist with hundreds of album credits as performer, composer and producer across a variety of genres including jazz, rock, hardcore, classical, surf, metal, klezmer, soundtrack, ambient and improvised music. Zorn has stated "All the various styles are organically connected to one another. I'm an additive person – the entire storehouse of my knowledge informs everything I do." For Zorn "Composing is more than just imagining music—it's knowing how to communicate it to musicians. And you don't give an improviser music that's completely written out, or ask a classical musician to improvise. I'm interested in speaking to musicians in their own languages, on their own terms, and in bringing out the best in what they do. To challenge them and excite them."
"Bill Laswell ranks among the most prolific of modern musicians, being involved in hundreds of recordings with many collaborators from all over the world. Laswell's music draws upon many different genres, most notably funk, various world music, jazz, dub and ambient styles. He has also played or produced music from the noisier, more aggressive end of the rock spectrum, such as hardcore punk and metal. Some of the acts Laswell has worked with include Method of Defiance, The Golden Palominos, Praxis, Massacre, Material, Buckethead, Painkiller, Ashes, Tabla Beat Science, Iggy Pop and Herbie Hancock."
"Dave Lombardo is a Cuban American drummer and a co-founding member of the American thrash metal band Slayer. He performed with Slayer on seven albums, including their groundbreaking 1986 release Reign In Blood and their 2006 release Christ Illusion, for which he received critical praise. Lombardo's music career has spanned more than 25 years, during which he has been involved in the production of 29 commercial recordings extending over a number of genres with bands such as Grip Inc., Fantômas, Philm, and Testament in addition to Slayer. Lombardo is most widely known as a very aggressive and exceptionally skilled heavy metal drummer. His use of the drums have been called "astonishingly innovative" and earned him the title "the godfather of double bass" from Drummer World. Over his career, he has had a significant influence on the metal scene and has inspired many modern metal drummers, particularly within both thrash metal and death metal."
$100 Above Stage
includes access to balcony above stage.
$100 Red Chair Package
includes reserved seat in Red Chair in balcony above bar + call drink package for duration of show.
$90 Dinner package
includes dinner (alcohol not included), poster.
$125 Mainfloor Seats
includes reserved seating in wooden chairs in first two rows directly in front of stage.