Enjoy a Free show with Blues artists Bob Stroger, Dave Kaztman & Nap Tabion playing on the sidewalk at Reggies on State St.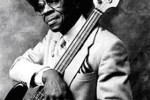 BOB STROGER
Have Bass Will Travel…. I was born in South East Missouri in a small town Haiti, where I lived on a farm. I moved to Chicago in 1955. I lived in the back of a night club on the West Side, where Howling Wolf and Muddy Waters played. It looked like they were having a lot of fun and I made up my mind that what I wanted to do was play music. I got married at an early age and I used to watch my brother-in-law play music. His name was Johnny Ferguson and he and JB Hutto had a band they called the Twisters. They were working on 39'th and State Street in Chicago and I would carry them to work every night and watch them. Then at home I would try to teach myself to play. My cousin Ralph Ramey said that we should start a band and we did just that. We got my brother (John Stroger), who played the drums, to learn the songs we knew and in four months we were making some noise. We went to a club and played two songs and the man said we had a job. It was one of the better clubs, where musicians like Memphis Slim worked. The owner wanted us to wear uniforms but we had no money to buy them, so we got black tams and put a red circle in the top and called the band the Red Tops and that was the way it started. We got so good that they wanted the band to travel, but Ralph's wife did not wont him to travel. so my brother formed a band with Willie Kent and myself and called it Joe Russel and the Blues Hustlers. We played together for a while,but eventually I decided to move on, because i wanted to travel more and see the world and I found out you can make money doing this. I joined a jazz band and played with Rufus Forman for about 3 years, but we were doing very little work. Then I met Eddie King and we talked. I told him I was in a jazz band and we needed a guitar player that could play blues. He sead OK and joined our groop, and we started playing blues and RB and things took off. We called the band Eddie King and King Men, and we stayed together for 15 years. Then we split up for about 2 years and later we started the band up as Eddie King and Babee May and the Blues Machine and we stayed together until Eddie King moved out of town. I quit playing for 2 years becouse we were so close I did not want to play with anyone but Eddie. Then I met Jessie Grean when I was playing with Morris Pejo and he liked the way I played bass and one night Otis Rush need a bass player, so Jessie said come and work with him. The rest is history. I have been playing music for 39 years and I am still having fun.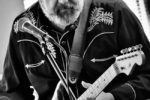 DAVE KATZMAN
Dave Katzman has been working in the Chicago Blues scene for over 4 decades. He has traveled the world as an Engineer, Guitarist, Producer and Road Manager. Working with artists like Albert Collins, Buddy Guy, Albert King, Otis Rush and many others.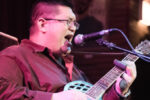 NAP TABION
A short ride on the South Shore rail line brought me to the 1988 Chicago Blues Festival and my first exposure to the blues as a teenager. To my young eyes Downtown Chicago seemed like a different planet compared to my home in Northwest Indiana. A little slide guitar from Homesick James Williamson and some harmonica from Snooky Prior and I was hooked. In a few years while earning a business degree at DePaul University, I pursued another education in smokey blues clubs at night. Blues icons Otis Rush, Junior Wells, Son Seals, Robert Lockwood, Magic Slim, Jimmy Rogers and many, many others still prowled the stages of Chicago in those years. I've since devoted much of my time learning the intricacies of the music and it's history. Over the years, I've absorbed what I could and have done my best to put my on spin on the blues. I'm constantly trying to find that sweet spot that, for me, lies somewhere between the raw Delta Blue of the south and the stomping Chicago Blues of my youth.
Today, you'll still find me in Chicago wherever Blues is played, listening and learning. You may also see me around town guitar in hand performing – see the Shows page on this site for details. Hope to see you there.
Nap