Bob Stroger Bass and Vocals
Billy Flynn Guitar and Vocals
Kenny "Beedy Eyes" Smith Drums
Dave Katzman Guitar
Omar Coleman
Melvin Smith Bass
Roosevelt "Mad Hatter" Purifoy Keyboards
Oscar "43rd street" Wilson Vocals
Amy Lowe Vocals
Barry Goldberg
Plus Special Guests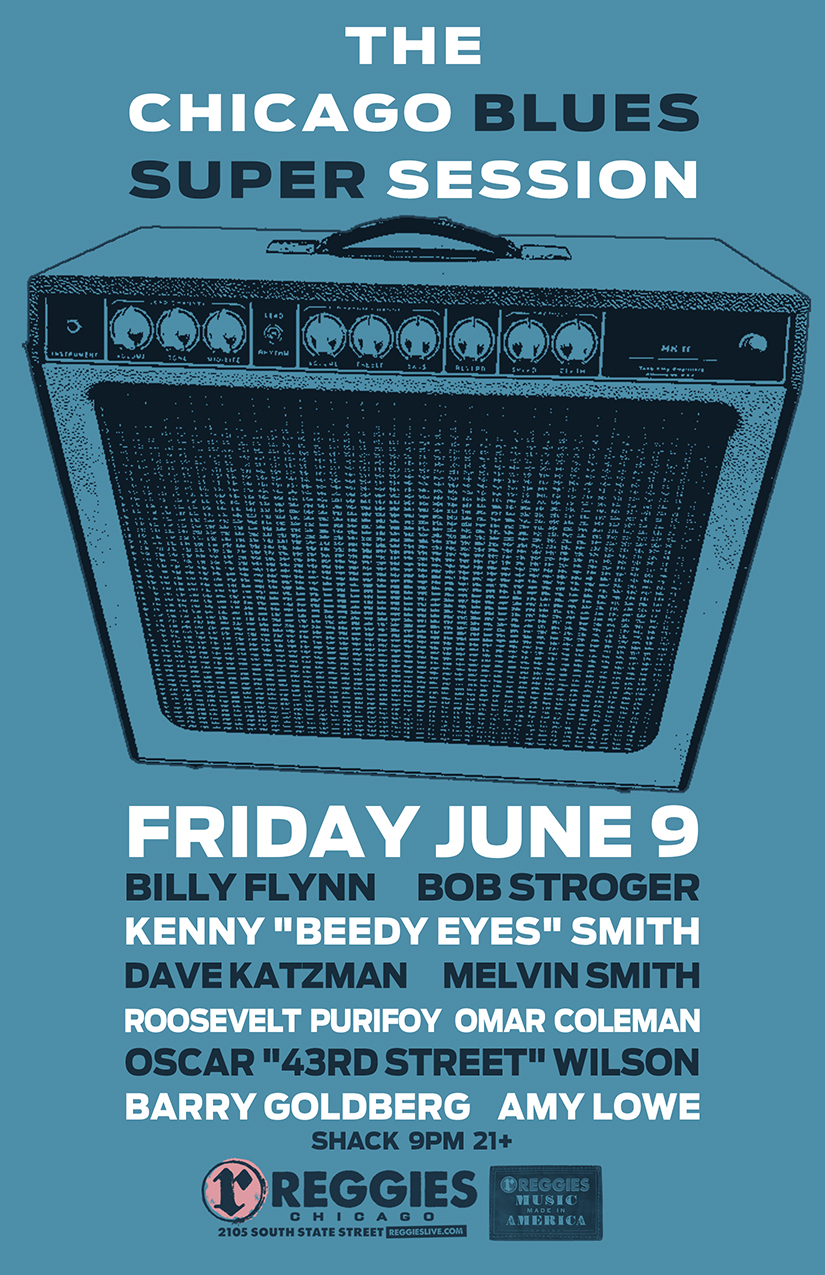 CHICAGO BLUES SUPERSESSION
Every performance showcases Chicago's finest and seasoned Blues Singers and Musicians. Each one is an established Chicago Blues Artist, and could easily carry a whole show on their own. However, by having them all together on the same stage it becomes a very special musical event. 
Inspired by the Classic Blues Reviews of the 1950s & 1960s, The Chicago Blues SuperSession utilizes the same rhythm section (guitar, bass, keyboards, and drums) and then rotates the front singers. By changing styles and different rhythms the audience can enjoy an exciting and diverse performance. It's like a complete Blues Festival all in one show.
​The SuperSession has performed at the Ann Arbor Blues Festival, The Chicago Blues Festival, Milwaukee's Big Barbeque, the Big Bear Blues Festival, The Chicago History Museum and many other venues all over the Midwest.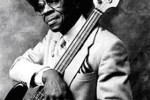 BOB STROGER
Have Bass Will Travel…. I was born in South East Missouri in a small town Haiti, where I lived on a farm. I moved to Chicago in 1955. I lived in the back of a night club on the West Side, where Howling Wolf and Muddy Waters played. It looked like they were having a lot of fun and I made up my mind that what I wanted to do was play music. I got married at an early age and I used to watch my brother-in-law play music. His name was Johnny Ferguson and he and JB Hutto had a band they called the Twisters. They were working on 39'th and State Street in Chicago and I would carry them to work every night and watch them. Then at home I would try to teach myself to play. My cousin Ralph Ramey said that we should start a band and we did just that. We got my brother (John Stroger), who played the drums, to learn the songs we knew and in four months we were making some noise. We went to a club and played two songs and the man said we had a job. It was one of the better clubs, where musicians like Memphis Slim worked. The owner wanted us to wear uniforms but we had no money to buy them, so we got black tams and put a red circle in the top and called the band the Red Tops and that was the way it started. We got so good that they wanted the band to travel, but Ralph's wife did not wont him to travel. so my brother formed a band with Willie Kent and myself and called it Joe Russel and the Blues Hustlers. We played together for a while,but eventually I decided to move on, because i wanted to travel more and see the world and I found out you can make money doing this. I joined a jazz band and played with Rufus Forman for about 3 years, but we were doing very little work. Then I met Eddie King and we talked. I told him I was in a jazz band and we needed a guitar player that could play blues. He sead OK and joined our groop, and we started playing blues and RB and things took off. We called the band Eddie King and King Men, and we stayed together for 15 years. Then we split up for about 2 years and later we started the band up as Eddie King and Babee May and the Blues Machine and we stayed together until Eddie King moved out of town. I quit playing for 2 years becouse we were so close I did not want to play with anyone but Eddie. Then I met Jessie Grean when I was playing with Morris Pejo and he liked the way I played bass and one night Otis Rush need a bass player, so Jessie said come and work with him. The rest is history. I have been playing music for 39 years and I am still having fun.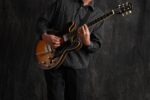 BILLY FLYNN
Billy Flynn is an American Chicago blues and electric blues guitarist, singer and songwriter.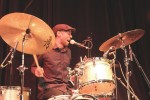 KENNY "BEEDY EYES" SMITH
Kenny Smith is one of today's top greatest blues drummers. he is an honored Grammy award-winning drummer, The son of the legendary Willie 'Big Eyes' Smith.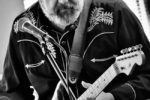 DAVE KATZMAN
Dave Katzman has been working in the Chicago Blues scene for over 4 decades. He has traveled the world as an Engineer, Guitarist, Producer and Road Manager. Working with artists like Albert Collins, Buddy Guy, Albert King, Otis Rush and many others.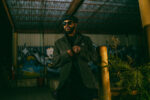 OMAR COLEMAN
Omar Coleman as a rising star with iron-clad longevity in the national blues scene. Hailing from the West Side of Chicago, Coleman grew up entrenched in soul music and black music that defined the era in the mid-90s. Working as a barber by trade, Coleman recalls being bored at his shop on Michigan & Adams in Downtown Chicago and sauntering to the music shop down the street to pick up an instrument to pass the time. He landed on the harmonica thinking it would be easy to learn quickly and would fiddle around on it between cutting hair and usurping the shoeshine guy's chair when he went to shine shoes in the back. With many clients being musicians, Coleman would learn about Chicago being heralded as 'Home of the Blues' and was tipped off to legends such as Buddy Guy, Howlin' Wolf, and more. Another world opened up.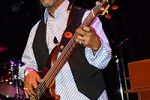 MELVIN SMITH
Melvin has been playing bass guitar for over 25 years in venues from small clubs to large international festivals. His career has had him performing in bands with such luminaries as Koko Taylor, Lurie Bell and Billy Branch. He has also performed with Carl Weathersby, Big James and the Chicago Playboys, Jimmy Johnson, Phil Guy, Lefty Dizz, Melvin Taylor, Charlie Love, Jimmy Burns and many others. Melvin is one of the most sought out bass men in the Chicago blues scene today.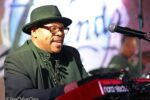 ROOSEVELT PURIFOY
Though he is not well known, even to many blues fans, Roosevelt "Hatter" Purifoy Jr. has performed for decades with a who's who of artists: Buddy Guy, Marvin Gaye, Son Seals, Jimmy Johnson, Willie Clayton; and he appears on dozens and dozens of recordings, likely into the hundreds. He has been the go-to pianist for indy blues and jazz label Delmark Records for years. His talent for adapting his style to best support other artists has led to sessions with Lurrie Bell, Syl Johnson, Sugar Blue, Larry McCray, Eddie Burns, Mavis Staples, the Kinsey Report and many others.
A native of Chicago, Purifoy has worked full time as a musician since he was a young man. Mostly, he has been honored to make others sound their best. For much of his career, however, his opportunities were limited due to his refusal to board an airplane. He decided to fly a few years ago, and as a result, audiences across the country are discovering his talent. He is also stepping out front more often with his own keyboard-driven shows. Purifoy has now taken to the sky regularly as Lurrie Bell's keyboardist, and he is finally working on a full-length recording of his own.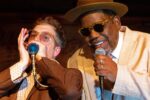 OSCAR WILSON
(of Cash Box Kings)
The Cash Box Kings are bona fide blues royalty. Co-led by real-deal Chicago blues vocalist and songwriter Oscar Wilson and Madison, Wisconsin-based songwriter, harmonica giant and singer Joe Nosek, the band plays masterfully raw and unvarnished houserocking blues. Wilson's huge, gritty vocals and Nosek's powerhouse harmonica fuel their razor-sharp original songs. With their top shelf musicianship and trademark good humor, The Cash Box Kings are a one-of-a-kind blues band. In the words of MOJO magazine, the band is "flawless."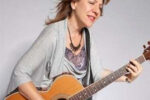 AMY LOWE
The crystalline voice that carries through Amy Lowe's music compels attention. This is true whether Amy is performing at a club, concert venue, or major festival, or providing an educational program for students, school assembly, library program, or a private party, or performing for senior citizens virtually, or at an independent living facility.
Amy is a singer-songwriter with more than 30 years of experience in the music business. She wears a number of musical hats that include multi-award-winning singer – songwriter, storyteller, and teaching artist. Amy's songs inspire diverse audiences of all ages. Whether performing original compositions, Americana Blues, World Roots, Adult Contemporary, or Children's music, her timeless style will remind listeners of songs from the Indigo Girls, Emmylou Harris, Etta James, and Lucinda Williams. She is a prolific songwriter with an extensive recording career and a vast catalog of original songs that fill the Music Libraries of Jewel-Eye-Music-BMI; Emphasis Entertainment; and Who'z the Boss. Her commitment to creating quality compositions for an assortment of clients include commissioned works for museums, theater groups, arts organizations, educational institutions, and individuals has brought her accolades along with many awards.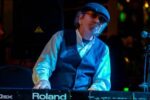 BARRY GOLDBERG
Barry Joseph Goldberg (born December 25, 1942, Chicago, Illinois) is a blues and rock keyboardist, songwriter and record producer.As a teenager in Chicago, Goldberg sat in with Muddy Waters, Otis Rush, and Howlin' Wolf. He played keyboards in the band supporting Bob Dylan during his 1965 newly 'electrified' appearance at the Newport Folk Festival. He formed The Electric Flag with Mike Bloomfield in 1967, and later formed the Barry Goldberg Reunion in 1968.Goldberg's songs (some of which co-written with Gerry Goffin) have been recorded by many musicians including Rod Stewart, Gladys Knight, Joe Cocker, Steve Miller, Bobby "Blue" Bland, Gram Parsons and B. J. Thomas.