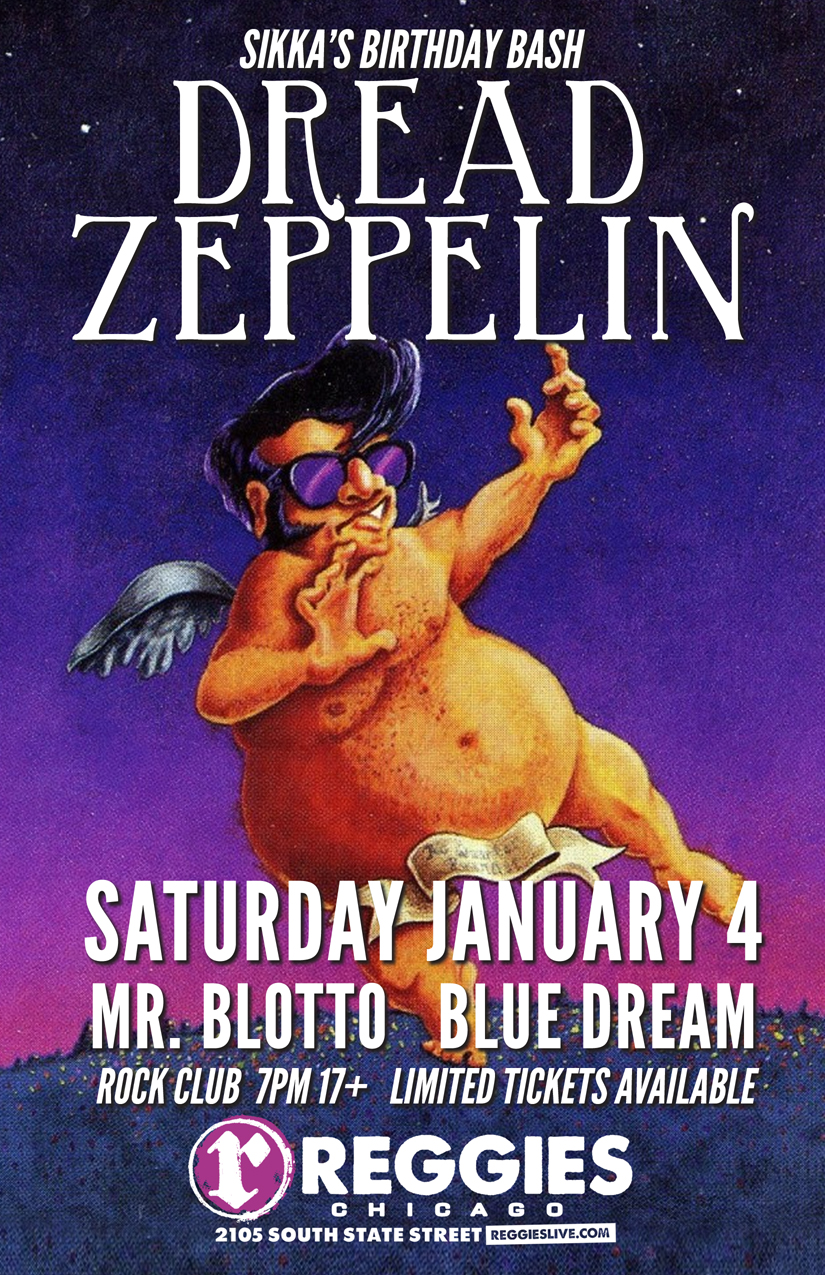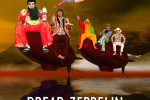 DREAD ZEPPELIN
"They've got two singers. One sings after the reggae style, and the other guy thinks he's Elvis. So when they do things like Black Dog, they kinda, hey hey mama say the way you move, gonna make you sweat gonna make you groove. Then it goes into reggae. It's fantastic"! – Robert Plant –
Besides this inarguable endorsement, Dread Zeppelin garnered high accolades from the British and American music press upon their debut and has continue to entertain and amuse audiences for over twenty years. They sound like the Hammer of the Gods, but act so cool that even our tone-deaf friends like them. Oh yeah – Led Zeppelin inna reggae style sung by an Elvis impersonator. You gotta order the extra-large portion!
Dread Zeppelin members:
Tortelvis
Charlie Haj
Butt-Boy
Fred Flintstoned
Spice
It is a well known fact that Elvis Presley's birthday falls on January 8th. Well, eight years to the day after their first gig on January 8th 1989, (or 1956 if you believe lead vocalist Tortelvis), a replica Ford Pinto, containing 5 reggae musicians, smokes its way onto another stage. This time it's the The Coach House in San Juan Capistrano, California, one thousand and ninety nine performances later. "It's a hot time in Orange County" Tort exclaims just before Charlie Haj, the man who hands him his water and towels on stage, gives him his final stage instructions. "Tortelvis, dispite your age of 35, your obviously in poor health and way over weight. I know you've come to accept your appearance and so have your fans. So please, watch your step on the way to the stage". And with that, the group that plays "Led Zeppelin music inna reggae style with an Elvis impersonator, is at it again! Since that day in 1989, Dread Zeppelin have released 12 cds, produced several videos (one in which Butt-head still says "whoa, that's cool" and Beavis just agrees ), starred in a motion picture, and have toured in over thirty countries including Japan, Brazil, Australia and all of Europe. Their tight and sometimes shredfestual brand of reggae music combined with a stage show that re-defines the word, have prompted even Robert Plant himself to speak out in support of Dread Zeppelin's version of "Your Time Is Gonna Come" over his own Led Zeppelin version! As you know, Dread Zeppelin is fronted by lead singer TORTELVIS, described as a cross between Vegas era Elvis, Dracula, and Liberace! Tortelvis is always accompanied by his faithful manservant, CHARLIE HAJ. Charlie quietly wipes the brow of the "Pompadoured Butterball" and keeps him in fresh towels. Lead guitarist BUTT-BOY is a tall scary man with an obvious secret agenda. Bassist FRED ZEPPELIN, a geeky reggaemon and a darn good player, along with drummer SPICE, are often mistaken for killer reggae rhythm section, Sly and Robbie.
Since the release in 1990 of their debut cd "Un-Led-Ed" for IRS Records, Dread Zeppelin have continued to play to diehard fans and confused faces in crowds around the world for almost 20 years. While the make-up of the band has gone through a few member changes, the main forces of the band have remained to reveal new and old sounds, and look for a new generation of Led Zeppelin fans and anti-Led Zeppelin fans. Dread may always be considered to most, purely a novelty act. However, some may argue that unlike a number of those acts, the bands longevity is due to their ability to actually play. On their latest release, Bar Coda ", they managed to step back in time with their camp approach they are known for. Tortelvis, has made a career of imitating the vocal style and mannerisms of the late Elvis Presley. However, "the times they are a kinda changin." While Tortelvis still carries some of the Elvis inflections into his own style, the music seems to be more timeless when not reverting to the use of fat, food or drug references, although their use of weaving many songs and riffs together make for laughs of their own.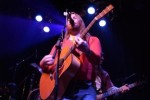 MR. BLOTTO
Mr. Blotto was born in Chicago as an off-night vehicle for musicians who loved each others playing but were in different bands at the time. The only rule was that they would only play what they loved. That philosophy continues today and has led Mr. Blotto into unique musical situations.

Mr. Blotto takes the Jam band asthetic into areas unfamiliar to the standard Jam Scene. They have been known to cover entire albums by Led Zeppelin and the Who as well as perform entire shows of Country and Reggae. Artists as diverse as the Grateful Dead, the Flaming Lips, Willie Nelson and The Velvet Underground have seen their material interpreted by Mr. Blotto in the 2000+ shows the band has performed in the last 15 years, yet covers only pepper the bands hefty catalog of original material stemming from five studio albums and other unreleased crowd favorites.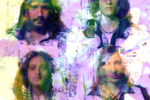 BLUE DREAM
Blue Dream is a rock & roll experiment from Chicago, Illinois; containing Danny Awisha on drums, Anthony Cook on guitar, Jimmy Russell on bass, & Justin Sanetra on guitar/vocals. Inspired by the elements of psychedelia, Blue Dream has been described as, "A calm euphoria wrapped in an energetic noise rock exterior, a feeling of intensity delivered in a laid back fashion" (Paste Magazine). In December 2017, the band released their first 7″ single thru Chicago label Treehouse Records. This was quickly followed by a vinyl release of their first album, Volume Won, by European label Kozmik Artifactz in January 2018. And in September of 2018 the band wrapped up the year by releasing their second album, Volume Blue. "Neo-Psych-Mit-Der-Funky-Grooves cut chic enough to be urbane but fuzzed out enough to make the freakouts more than just a come on. I'll take the dream-tone shimmer any day in a kind of self-aware reflection of British folk, but the dense roll that immediately follows re-imagines grunge as more than just an influence from 3 popular bands and something that could genuinely move forward from the perspective of a new generation" (The Obelisk).