GREG HOWE "Lost and Found" Tour 2023
Line-Up:
Greg Howe: Guitar
Ernest Tibbs (Allan Holdsworth, Simon Phillips): Bass
Joel Taylor (Al DiMeola, Allan Holdsworth): Drums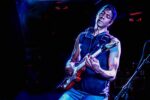 GREG HOWE
GREG HOWE "Lost and Found" Tour 2023
Line-Up:
Greg Howe: Guitar
Ernest Tibbs (Allan Holdsworth, Simon Phillips): Bass Joel Taylor (Al DiMeola, Allan Holdsworth): Drums
Legendary guitarist, Greg Howe, will kick off his North American tour 'Lost and Found" this July 2023, which will feature tracks from a new upcoming studio album, in addition to many of his classic fan- favorites.
The 2023 touring band features renowned bassist Ernest Tibbs (Allan Holdsworth, Simon Phillips) and drummer Joel Taylor (Al DiMeola, Allan Holdsworth) joining Greg Howe on guitar.
Lost and Found marks Howe's eleventh solo album and follows his 2017 Wheelhouse release, which was voted #6 of the top 20 best guitar albums of the decade by Guitar World Magazine.
Throughout Howe's long career, he has developed a solid reputation as a technical innovator, particularly for his "hammer-on from nowhere" technique, legato runs, unusual time signatures, and linear tapping approach. His self-titled debut album Greg Howe is ranked as one of the top 10 best shred albums of all time by Guitar World Magazine.
Greg has also played key roles in numerous collaborative recording and touring projects along the way, partnering with the likes of world renowned musicians such as Dennis Chambers, Victor Wooten, Billy Sheehan, Jordan Rudess, Eddie Jobson, Tony Levin, Marco Minnemann, Richie Kotzen, Dave Weckl, and Tetsuo Sakurai, to name a few. In 2018, Howe recorded all the guitar work for the GRAMMY® nominated album Protocol IV by legendary drummer Simon Phillips, which also featured Ernest Tibbs (bass), and Dennis Hamm (keyboards).
In addition to his personal recording career as an artist, Greg also made a name for himself as a stellar sideman and touring session musician with some of the biggest pop artists of all time such as Michael Jackson, Justin Timberlake, Rihanna, Nsync, Enrique Iglesias, Christina Aguilera, and others.
Musical trends may come and go, but you always know what to expect with a new Greg Howe album and tour – and this veteran guitarist certainly won't disappoint with what will undoubtedly be a breathtaking showcase featuring one of the best Rock/Fusion players in the world.
Audiences will experience Greg Howe doing Greg Howe like no other. The show will include material from the new album, as well as, his most popular tracks such as "Jump Start", "Kick it all over", "Sunny", and many more.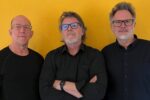 TU-NER
From the kitchen of the original King Crimson R&D fraKctal units, please let us welcome the new incarnation of tu-NER.
tu-NER, in its most recent incarnation, is a musical trio comprised of Trey Gunn, Markus Reuter, and Pat Mastelotto, that celebrates the music of the Double Duo era (1998 to 2003) of King Crimson, and the bands TU (Mastelotto and Gunn), KTU (Mastelotto, Gunn, and accordionist Kimmo Pohjonnen), TUNER (Mastelotto and Reuter), TUNISIA (Mastelotto and thereminist Pamelia Stickney), The ProjeKcts (featuring Gunn and Mastelotto as well as other KC members) and Stick Men (Mastelotto, Reuter and King Crimson's stickist Tony Levin).
tu-NER will perform their original music, improvs and honor as well their King Crimson/ProjeKcts DNA, as well as also bring to the stage some of the material produced by TU and TUNER during the past two decades. The music of those projects is known for being innovative yet accessible in nature, drawing on elements of rock, jazz, prog, funk, and other genres.
All the different influences coming together through these three artists are notable for their endlessly creative approach to music, and for the highly skilled musicianship of the players involved. The music produced by all these precedent projects is highly rewarding for those who are willing to listen with an open mind. After three decades of partial collaborations in pairs, and two decades since Trey introduced Pat to Markus, they have created pieces like Face, Absinthe, Pole, Műűt, Untamed Chicken, Flinch, Fandango, and Deception of the Thrush, all having become part of the classic neo-progressive rock catalogue of the 21st century. Together with staples from the King Crimson songbook such as EleKtriK, Level Five, Vrooom Vrooom, and FraKctured, all co-written by members of this outfit, these three amazingly talented friends guarantee an evening of mind-expanding music of the highest standards of virtuosity, innovation, and melodicity.
Of course, the creative impulse of these three musos would never be fully satisfied by simply revisiting their back catalogues, as if it were a mere trip down memory lane. Far from it, audiences will be treated to new pieces, as well as their characteristic improvisations, which, instead of consisting of simply jamming and noodling, in their case always comprise "instant compositions," where the three musicians are constantly listening to each other with their ears and with their souls, in the telepathic fashion of a true R&D small intelligent unit. Because Trey, Pat and Markus are the best musicians at creating magic musical concoctions on the spot, away from the rock or jazz traditional rules of improvisation.
Listeners who are fans of King Crimson, and progressive music in general, will soon realize this new trio incarnation of TUNER is the musical collaboration of the decade. Twenty years since the disbanding of the Double Duo, the spirit of the ProjeKcts is finally back on the road with Gunn, Reuter and Mastelotto.
TREY GUNN – Warr guitar (ex King Crimson, David Sylvian)
PAT MASTELOTTO – drums, electronics (Stick Men, King Crimson)
MARKUS REUTER – touch guitar (Stick Men, Devin Townsend)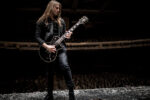 SAMMY BOLLER
Detroit is home to guitarist and Candyrat recording artist, Sammy Boller. Hailed by Guitar World as "one of electric guitars most promising names," Sammy's debut instrumental album, Kingdom Of The Sun, was released in March, 2020 to international acclaim.
A former music student at the University of Michigan, Sammy catapulted onto the national radar in 2012, when Joe Satriani selected him as a winner in Guitar Center's "Master Satriani" competition. Now, an internationally-acclaimed player, Boller has amassed a large and loyal online following, and he earns his living as a full-time musician. Prior to embarking on his solo career, Sammy played guitar for the band, Citizen Zero (Wind-Up Records/Concord Music Group). Their State Of Mind LP notched multiple radio singles, including the debut release "Go (Let Me Save You)", which cracked the Top 15 on Billboard's Mainstream Rock Chart.
Outside of his own live touring schedule, Sammy also spends time on the road with world-renowned amplifier wizard Dave Friedman (Friedman Amplification). The two regularly embark on runs through the States and Europe to sponsor clinics and gear demonstrations. In addition to his support role with Friedman, Boller is also a contributing columnist for Guitar World Magazine. His online column ("Secrets of Shred With Sammy Boller") has a loyal monthly following, regularly racking up view counts in the tens of thousands.
When asked to describe his influences and approach, Sammy says, "My guitar playing has always been about plugging into an amp and blowing the walls down. I grew up wanting to be Eddie Van Halen and Randy Rhoads, but over time I've found my own dark and aggressive style. These days, my dream as a musician is to make people feel as connected to the cosmos as I feel when I play the guitar. I'd love nothing more than that."
$35 Front Row Section
includes reserved seat directly in front of stage.
$35 Red Chair
includes seat in balcony above bar across from stage