The Chicago Metal Factory & Rebel Radio presents
the 22nd annual HOLIDAY OF HORROR 
Admission includes two rooms of Metal:
17+ in Rock Club with MACABRE, Novembers Doom, Without Waves, Everything Must Die
21+ in Music Joint with Hewhocorrupts, Something is Waiting, Extraction Point.
Stick around after the show for a FREE SHOW with TBA!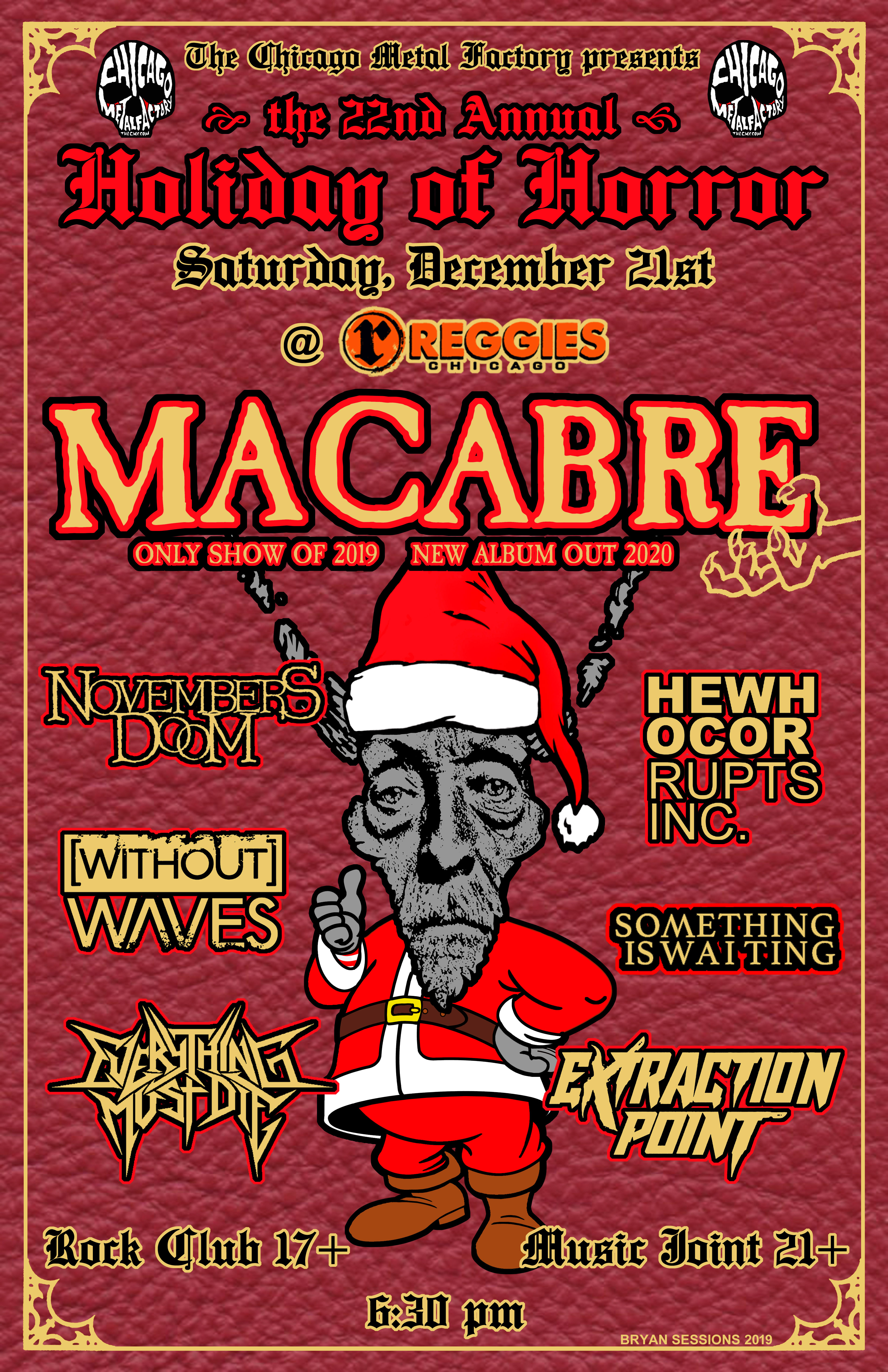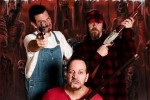 MACABRE
Macabre blends elements of true crime, math rock, nursery rhymes, punk, thrash, folk melodies, death metal, jazz fusion, black metal and more into an energetic, catchy and unmistakable amalgam, refers to Macabre's signature style. It's a genre of one. The all-too-true tales of man's inhumanity to man are delivered with knife-edge precision, interspersed with Corporate Death's patented (back when he was a toddler) screech.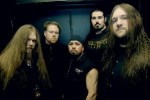 NOVEMBERS DOOM
In 2006, Novembers Doom once again entered the studio to record the follow up to 2005's "The Pale Haunt Departure." The philosophy was simple… If it isn't broken, don't fix it. Sessions for "The Novella Reservoir" began with Chris Djuricic once again engineering and co-producing, also taking up the recording of the Bass guitar. Mixed by the highly respected Dan Swano, and mastered again by legendary James Murphy, "The Novella Reservoir" was completed, becoming the bands greatest audible onslaught yet. Taking their musical direction to the next logical step in their evolution, Novembers Doom has broken free from their past genre labels, to create a modern dark metal CD influenced heavily by their Chicago 90's death metal roots. "The Novella Reservoir" is easily the bands most aggressive CD to date, and will, without a doubt concrete them as one of the top bands of their genre.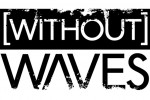 WITHOUT WAVES
Featuring a core of musicians with nearly 10 years of experience playing together, Without Waves is set to bring their brand of experimental music to the Chicago and international music scene. The band has just released their first album, entitled Scab Platter, and is garnering interest through their eccentric music and intense live shows.
Without Waves was formed in early 2010 by Garry Naples, Zac Lombardi, Anthony Cwan and John Picillo. The four members had played together in various incarnations over the past decade, but were seeking a fresh start to expand their musical ideas and goals. A new project with a less definitive style was the answer and Without Waves was born. With a group of songs written, the band entered in the studio in 2010 to record a demo, and subsequently, a full album.
Musically, Without Waves is meant to be the product of a musical experimentation between its four members. Blending influences from extreme metal to jazz fusion to electronic & atmospheric rock, the music features unconventional rhythms, diverse melodies, and expressive lyrics. The band members seek to constantly challenge themselves as musicians and advance their creativity.
Evolution through Experimentation.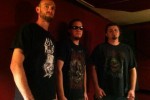 EVERYTHING MUST DIE
EVERYTHING MUST DIE, Chicago three-piece grindcore that mixes elements of hardcore, death metal, punk and all forms of extreme music to create a violent, intense sound with all three members as singers. Guitarist Ryan Richards (EARTHBURNER, NO CONVICTION), bassist John Seidelmann (NO CONVICTION) and drummer Ryan Cawley (DEVANGELIST) were in search of a new sound in March of 2012, and within one month formed EVERYTHING MUST DIE, quickly recorded their TIME TO DIE demo, and went on the road as the opener for D.R.I., sharing their gear and cheap beer across the mid-west. Afterward, the trio hunkered down to perfect their sound and write new music, shredding the stage with bands like CANNIBAL CORPSE, GOJIRA, GREEN JELLY, CAR BOMB, and many more. EMD went back to Mercenary Digital Studio to record their debut album LIVE TO KILL, which was released in January 2013. In the true spirit of do-it-yourself, they made a lyric video for their song "School Shooter", and soon after their song "SANDUSKY" was featured on a grindcore compilation album GRINDING FOR A CURE, featuring 100 bands across the world, compiled by members of Phobia and Noisear. EMD is currently grinding anywhere they can, promoting the album, writing new music, building a strong fan-base and seeking a record label to help spread the word and put EMD on a stage near you!
Limited Box Office Bundle
includes 2 tickets plus HOH shirt.