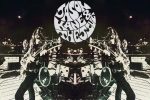 JASON KANE & THE JIVE
In 2013, Jason Kane started as an acoustic artist, travelling and playing wherever he could with whoever he could. One year later, he crossed paths with bassist Nick Jive and formed Jason Kane & The Jive. In the Spring of 2015, they released their 1st EP and proceeded to tear up the Texas rock scene. Over the course of the next two years, The Jive had the honor to share the stage with many iconic acts, such as Ace Frehley, Moxy, Y&T, Dokken, Uli Jon Roth, and The Winery Dogs.
By 2017, after going through a revolving door of musicians and line-up changes, Jason Kane & The Jive released their self-titled debut album. Combining vintage sounds with modern elements, tracks such as "Courthouse Blues, "Crystal Ball", and "How I Do" breathed new life into San Antonio's underground rock n' roll legion. In September of that year, they joined forces with drummer Thomas Chapoy, completing the line-up and re-enforcing the idea of the "power trio" in rock n' roll.
In May of 2018, the trio entered the studio to record their sophomore album "Hellacious Boogie", a ferocious full-throttle rock record fueled with funk, soul, and blues. Two high-energy music videos from the album premiered in the Summer, and the album was subsequently released later that year on October 26th.
The band's continued determination to create and conquer is possessed by nothing but the music they live, breathe, and love to play.
"Brothers and sisters; let me show you where it's at." – Jason Kane, Vocals/Guitars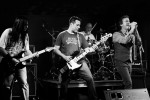 KINGERY
"Kingery is a band that believes in the powerful force of music which manifests itself in everyone's lives.  The uplifting lyrics of John Kush (Vocals) are easy to identify with.  Ed Jenke (Guitars) and Gene Jenke (Bass/Synthesizers) are brothers who grew up solidifying their talents and challenging each other daily.  Kyle Spoden (Drums) keeps a commanding yet melodic beat.  Kingery shares influences which have shaped a unique, classic sound that entices you to listen intently.
Kingery released their first album "What Lies Beneath" in October 2013 and now followup with their sophomore effort, "On The Fly".  Kingery believes the music will grow with you after each listen.  Both albums are available for purchase on Itunes, CD Baby, and Amazon."